Spanish Dressage News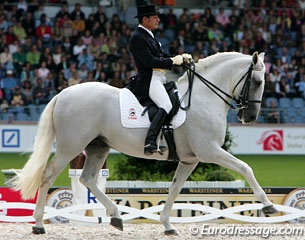 The renowned PRE Grand Prix dressage stallion Invasor, which made Rafael Soto a legend in the dressage ring, has passed away at age 24 in Jerez de la Frontera, Spain. The grey sire died while Soto was in London at the 2013 Olympia Horse Show performing a demo with the Real Escuela de Jerez.
"I'm very sad," a bereaved Soto told Ecuestre Online. "He was my partner who has given me everything. I will never forget him. We were all surprised by his death, but at least we know he didn't suffer," Soto commented.
Invasor was born in 1989 at Alvaro Domecq's yard in Los Alburejos. He was sired by Panadero VIII and out of Bravia IX (by Valeroso VII). The stallion made his show debut under Antonio Cid as a 5-year old but Ignacio Rambla took over the ride when the horse was 6. Rafael Soto brought Invasor to greatness in the international Grand Prix ring.
Invasor was Spanish Grand Prix Champion in 1998, 1999 and 2000. The pair represented Spain at the European Championships in 1997, 1999, 2001 and 2003, finishing fifth individually in 2001 and earning team bronze in 2003. They were key performers on the team at the 1998, 2002 and 2006 World Equestrian Games. Spain won team bronze on home turf in 2002.  They were also key players for Spain at three Olympic Games (1996, 2000 and 2004), winning team silver in Athens!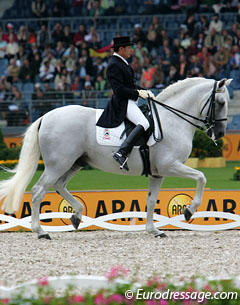 Invasor was retired from competition sport in 2007 but was still ridden until a few years ago. He stayed fit the last few years by daily going into the horse walker. Soto was thinking of relocating the stallion to a local yard where he could spend more time in a quieter place as well as stand at stud, but it wasn't meant to be.
Rafael Soto and Invasor were the pioneers for modern dressage sport in Spain alongside Ignacio Rambla on Evento and Juan Antonio Jimenez on Guizo. The crowd-favourite combination will be remembered for its text book piaffes and signature Spanish walk while saluting the audience each time upon leaving the ring after a test.
Photos © Astrid Appels
Related Links
Eurodressage Photo Database: Invasor
Rafael Soto's Invasor Retired
Most Amazing Ride of the Day, Rafael Soto on Invasor
Invasor and Beauvalais Back in the Show Ring at 2006 CDI Saumur
Photo Report: 2006 WEG Behind the Scenes Shots