2013 CDI-W London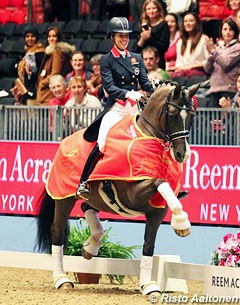 New York fashion designer, Reem Acra, was one of many to watch in awe as Great Britain's Charlotte Dujardin and Valegro smashed the Freestyle world record with a breath-taking winning performance at the London International Horse Show in Olympia on Tuesday 17 December 2013.  The result provides the 28-year-old rider and her mighty steed with the full set of world records for the sport of Dressage. 
Double-gold medallists on home turf at the London 2012 Olympic Games, the combination has not been seen in public since adding the European individual title to their stunning list of achievements at Herning in Denmark this summer.  But their legions of fans were well-rewarded for the wait, as the dynamic duo marched resolutely to make it not just a British win in front of their home crowd at the much-loved Christmas fixture, but another watershed moment in the story of this most remarkable partnership.
Beirut-born Reem Acra chose the right night to make an appearance at one of the qualifiers she has been sponsoring for the last four years.  In another pivotal moment for the sport, Dujardin pinned the man who previously held the Freestyle record, Edward Gal, into runner-up spot.  It was also at Olympia that the Dutchman and the fabulous black stallion, Totilas, set the target at 92.30 back in December 2009, and tonight Gal produced a really strong test with Undercover for a mark of 87.425 to finish almost seven percentage points clear of impressive young Dutch cohort Danielle Heijkoop who slotted Siro into third.  Britain's Michael Eilberg and Half Moon Delphi finished fourth, while The Netherlands' Hans Peter Minderhoud and Romanov recovered from an uncharacteristically bad day in yesterday's Grand Prix to finish fifth ahead of Denmark's Nathalie zu Sayn-Wittgenstein and the veteran Digby in sixth. 
It was a glittering evening from start to finish, and, as Dujardin said tonight, the end result was "the best Christmas present!".
In her sights
After winning yesterday's Grand Prix in which she finished more than four points clear of Gal and his black gelding, Dujardin admitted that she had the Freestyle record in her sights. "That's the one I've got left to break, but whether I'll do it here, obviously that's what I want to do, but you know it just all depends on the night really and how it goes".  As it happened, the night went just fine.
The golden pair followed Gal and Undercover into the atmospheric cauldron of Olympia's Grand Hall, and you could hear a pin drop as the triumphal musical score created for their sensational Olympic appearance began to play.  Dujardin and Valegro needed to exceed Gal's target score with Undercover whose self-discipline and self-belief seems to be growing with every outing.  The 12-year-old horse demonstrated some fabulous work with rock-solid piaffe and flowing canter to really throw down the gauntlet to the reigning Olympic individual champions, but nothing could throw that pair off their stride.  Quite often they have won despite major blunders, including yesterday's error as they began their canterwork.  But tonight there would be no mistake.  "I had the ride of my life!" said Du Jardin afterwards. "I thought at the Europeans, he gave me such a great feeling....I tried to recreate that without any blips, and that's what I got!" she added.
Early target
It was Hans Peter Minderhoud who set the early target when third to go.  Although  Romanov looked ready to explode if he got the opportunity, his rider turned all that energy into pure performance for a mark of 77.675, therefore making massive amends for the exceptionally poor 13th finishing spot in yesterday's Grand Prix.  And he was still out in front until Dutch counterpart Heijkoop posted 80.625 for a wonderful test with  Siro.  The 28-year-old rider who was a member of this summer's gold medal winning team at the 2013 European Championships is blessed with a quiet seat and a soft hand which allows her to keep her horse perfectly in balance, and the 14-year-old gelding breezed through wonderful extended canter, passage and piaffe to pull well ahead of the rest with just four more to go.
Next were Denmark's Nathalie zu Sayn-Wittgenstein and her great servant, the 16-year-old Digby who was retired from team competition this summer and who is now only making special guest appearances. But the Donnerhall gelding has clearly lost none of his lust for work as he registered a very creditable 76.900.  It was Gal however who put paid to Heijkoop's dominance, only to be immediately displaced at the top of the leaderboard by Dujardin and her dancing horse. The power, the presence, the symmetry between horse and rider and the synchronicity with the musical score worked so perfectly. 
Fellow-Briton Michael Eilberg ended the evening with a lovely test from the charming grey mare Half Moon Delphi for his score of 78.700 which would place him fourth, but it was golden girl Du Jardin and her 11-year-old gelding Valegro who would take all the limelight as the 8,000-strong crowd gave them a standing ovation.
All I wanted to do
Talking afterwards, Dujardin said "you all know i came here thinking about breaking the world record, that's what I wanted to do, but thinking it and doing it is something else. To think I have that world record, in fact all three now, is fantastic..and to do it on home ground and in front of the supporters is incredible" she pointed out.
She expressed her appreciation to friend, trainer and mentor Carl Hester who finished eleventh of the fifteen starters tonight with Fine Time.  "Thanks to Carl, and for all those days of screaming at me! And thanks to everyone that has made this happen. I couldn't do it without them" she said, adding, "and thanks to Carl and Roly (co-owner of Valegro) who allow me to ride such a great horse!"  Talking about her winning socore, Du Jardin said, "I wasn't sure how high it was going to be, but when i finished that left pirouette that went wrong at the Europeans, then I could breathe. What a ride!"
Hester meanwhile reflected on the development of his pupil and the extraordinary Valegro, and on their record-breaking win tonight. "I was clever enough to give the ride to the right person rather than trying to do it myself. It was a privilege to see. It's important for us older riders to see the sport develop. Roly (Luard) bought him (Valegro) for me, and I had to say let's try and develop a partnership with Charlotte.  It is very exciting to see new people come in, and inspirational to young riders to see how quickly someone with talent and with a truly exceptional horse can go and win gold medals and break world records. We all love that story. I'm very, very, very proud of her" said the 66-time British national dressage champion.
Poignant moment
Before the hectic prize-giving ceremony there was a poignant moment for Dujardin's London 2012 bronze medal winning team-mate Laura Tomlinson who officially retired her great horse Mistral Hojris, more popularly known as Alf.   Tomlinson and Alf were instrumental in Britain's steady ascent in the world of international Dressage in recent years, and the 28-year-old rider said tonight, "I want to celebrate all he's given me and the sport.  Alf is leaving British Dressage in very safe hands".  She admitted that tonight's performance by Dujardin and Valegro left her "speechless", and she wasn't the only one to be staggered by pair who now hold the full hat-trick of records - for Grand Prix, Grand Prix Special and Grand Prix Freestyle - tightly in their grasp.  
 
Gal wasn't too surprised that his Freestyle record, set in the very same arena four years ago, has now been broken. "Valegro is an amazing horse and Charlotte is a very good rider, I like them both. I always knew that some day it will happen" he said.
Facts and Figures:
Olympic double-gold medallists and reigning European individual champions, Charlotte Dujardin and Valegro from Great Britain, broke the world record for Grand Prix Freestyle when posting the winning score of 93.975 at the World Cup™ Dressage Western European League qualifier at Olympia, London tonight.
The previous record of 92.3 was set by The Netherlands' Edward Gal and Totilas at Olympia in 2009.
The London International Horse Show at Olympia presented the fourth leg of the World Cup™ Dressage 2013/2014 series.
New York fashion designer, Reem Acra, is in her fourth year of sponsorship of the World Cup™ Dressage series, and the Beirut-born designer to the stars attended tonight's event.
Riders from seven nations - Australia, Belgium, Denmark, Finland, France, Great Britain, The Netherlands - competed in today's Grand Prix Freestyle to Music.
Dujardin and Valegro also won yesterday's Grand Prix with a score of 84.851.
The Ground Jury for tonight's competition was: At H, Susan Baarup DEN; At C, Andrew Gardner GBR; At M, Isabel Judet FRA; At E, Eddy de Wolff van Westerrode NED; At B, Isobel Wessels GBR.
Quotes:
Charlotte Dujardin: When asked if she was affected by the intensity of the atmosphere and close proximity of the spectators:  "I can shut all that out, just focus on what I have to do. I don't see anything around me, don't hear anything. We were definitely loved up!"
FEI Dressage Director, Trond Asmyr: "it was just fantastic to be here on a night like this. There was no real discussion who would win after the rides, it was fantastic. As far as the development of British dressage is concerned, I've been following it for over 15 years now and it's no surprise you are at the level you are - developing every year, consistent and thorough work and you are at the pinnacle of it!"
Andrew Gardner (judge at C): "I can remember the days when I finished (marking) a test and gave a 9 or two 9s - I can't tell you how many 10s I gave today, I lost count, it was top class, really fantastic sport!"
Roly Luard, co-owner of Valegro: talking to Charlotte Dujardin at the post-competition press conference -  "Myself and Carl are so proud of you and the horse and everything you've achieved, it's just amazing!".
British rider Laura Tomlinson talking about the official retirement of her Olympic and European team gold medal winning ride, Mistral Hojris (stable-name Alf) tonight: "It was very emotional for me retiring Alf in front of a crowd like that, to think my days of training Alf is over. 
Edward Gal: "Last year I had (a score of) 74, now 87, so for the WEG maybe we will get 96!"
Related Links
Scores 2013 CDI-W London
Eurodressage Coverage at the 2013-2014 World Cup Circuit