2013-2014 KWPN Stallion Competition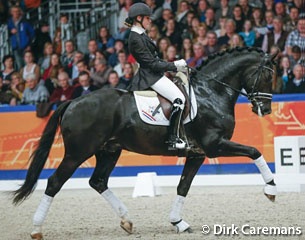 The same trio of stallions - 4-year old El Capone, 5-year old Desperado and 6-year old Capri Sonne - pulled off a hattrick by claiming their third consecutive victory at the third leg of the 2013-2014 KWPN Stallion Competition, taking place at equestrian centre De Goubergh in Roosendaal, The Netherlands, on Tuesday 17 December 2013.
Marieke van der Putten and the black stallion El Capone (by UB40 x OO Seven) scored 87.5 points to win the L-level division. The judges praised the horse for its "good, relaxted test" and they scored him 9 for walk. "He shows good body usage and much relaxation. He is lightfooted in trot with a very nice frontleg usage and in canter he has much balance and straightness," judge Jan Wolfs explained. Diederik van Silfhout and Expression (by Vivaldi x Vincent) were second tying with Benjamin Maljaars  on Everdale (by Lord Leatherdale x Negro) with 85 points.
Emmelie Scholtens and the black Desperado (by Vivaldi x Havidoff) dominated the M-level disvision with 90 points. "The stallion gave a strong performance with much quality in walk, an uphill trot and much self carriage and technique in canter. We gave him 9 for all requirements," said Jan Wolfs. Scholtens also landed second place aboard the chestnut Dorado (by Krack C x Rousseau) on 88 points. The stallion earned 9s for his walk, trot, general impression and conformation. Gerdine Maree and the black Dream Boy (by Vivaldi x Ferro) were third with 84.5 points. This combination scored in trot and canter, but lost points in walk (7.5).
Dinja van Liere and the black AES licensed Capri Sonne JR (by Rhodium x San Remo) reigned at Z-level with 87.5 points. Judges Jan Wolfs, Karin Retera and Jeroen Hulsman were impressed by the horse's walk, canter and general impression (9s) and gave the pair an 8.5 for trot and self carriage. José van Haaren and the black Cupido (by Daddy Cool x Jazz) were second with 80.5 points. Especially the trot and canter were Cupido's strong points despite a bit of tension. Dutch A-team Grand Prix rider Patrick van der Meer ranked third aboard the chestnut Chagall D&R (by Jazz x De Niro) on 77 points. 
Photo © Dirk Caremans
Results - 2013 KWPN Stallion Competition - Roosendaal
L-level
1. Dinja van Liere - El Capone - 88 points
2. Benjamin Maljaars - Everdale - 85
2. Diederik van Silfhout - Expression - 85
4. Vai Bruntink - Ebony - 82
5. Dinja van Liere - Etoile DES - 76
6. Emmelie Scholtens - Electron - 74
6. Stefanie Wolf - Elton John - 74
Kirsten Brouwer - Eye Catcher - DNS
Emmelie Scholtens - Estorik - DNS
M-level
1. Emmelie Scholtens - Desperado - 90
2. Emmelie Scholtens - Dorado - 88
3. Gerdine Maree - Dream Boy - 84.5
4. Diederik van Silfhout - Don Tango B - 84
5. John Tijssen - Dundee M - 74.5
6. Lotte Jansen - Dark President - 73.5
7. Lisanne der Nederlanden - Davino VOD - 70.5
Benjamin Maljaars - Diego - DNS
Z-level
1. Dinja van Liere - Capri Sonne JR - 87.5
2. Jose van Haaren - Cupido - 80.5
3. Patrick van der Meer - Chagall D&R - 77
4. Tom Franckx - Charmingmood - 75.5
Related Links
El Capone, Desperado, Capri Sonne Win Second Leg of 2013-2014 KWPN Stallion Competition
El Capone, Desperado, Capri Sonne Win First Leg of 2013-2014 KWPN Stallion Competition