2013 PSI Auction
The 34th Performance Sales International in Ankum in Lower Saxony finished with a fantastic success. The 48 dressage and show jumping horses at the most important riding horse auction worldwide were sold at 13.202 million euro in total. The customers came from all over the world with part of them being connected through the telephone with Paul Schockemöhle and Ullrich Kasselmann during the auction to place their bids from far away.
The two organizers of the P.S.I. Auction were completely satisfied with the result: "The auction last year already revealed that our quality standards, combined with sound training work, are crucial for our customers," Kasselmann and Schockemöhle pointed out. "Extraordinary dressage and show jumping horses are sold at top prices."
 
The particularly noble, three-year-old gelding Bluetooth (by Bordeaux x Riccione) was price highlight with the dressage horses, selling for 1 million euro to Sergej and Elena Knyaginicheva. The brown gelding with the elastic and supple, powerful movement descends from outstanding bloodlines. "An exceptional horse, simply perfect in all respects, and he has that certain something," was Ullrich Kasselmann's comment about this equine jewel of the dressage horse collection. The youngster was bred by the Gestüt Lewitz and trained in the Kasselmann-stables. Bluetooth will move to the stable of the double World Champion of Young Dressage Horses, Sa Coeur, and will hopefully also delight the audience at the next World Championships in Verden.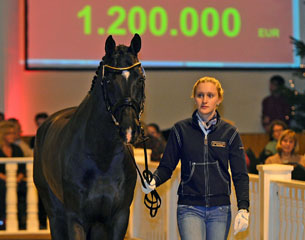 The seven-year-old black gelding Lannaro (by Larino x Kannan) was the top-priced horse among the 25 jumpers of the 34th P.S.I. Auction.  Ukrainian buyers paid 1.2 million euro for the Federal Show Jumping Champion, this year the first time held for seven year old jumpers. Lannaro exhibits an awesome show jumping potential, a first-class technique and, despite his youth, already incredible overall view. Lannaro was bred by Paul Schockemöhle's stud Gestüt Lewitz, and, in addition, he is a truly beautiful horse.
The Performance Sales International finished with an average auction sales price of euro 275,041. The jumpers were sold at 7.478 million euro in total, a total of 5.724 million euro was paid for the dressage horses at the 34th P.S.I. Auction in Ankum.
For more information about the collection, the persons of contact and service, please click on www.psi-auktion.de.