German Dressage News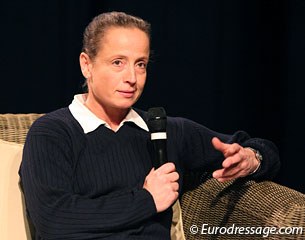 The first chamber of the disciplinary committee of the German Equestrian Federation has decidede to suspend Isabell Werth from competitions for a six month period following the positive medication case of her horse El Santo in July 2012. Werth will appeal this verdict.
In July 2012 El Santo tested positive to the FN prohibited medication cimetidine at the Rhinelander regional championships. According to Werth, El Santo had drunk contaminated water when the water system in her barn failed, as El Santo's box neighbour Warum Nicht FRH was treated with the medicine for stomach ulcers.
After extensive investigation of all the circumstances, the chamber believes that El Santo's contamination occurred through the bars of the stable box with his neighbour. The chamber sees this as a failure in proper barn management, for which Werth is responsible. 
The chamber ruled that it is very unlikely that the failing water system was the cause of the positive medication test.  The rider had to provide proof with a reliability of at least 50% that the system was the reason for contamination. The experts she appointed to investigate failed to do deliver sufficient proof.
Therefore, the chamber ruled to ban Isabell Werth from national and international competitions for a six month period. She will also have to cover the legal costs and pay a 2,000 euro fine.
This verdict is not yet final as Werth can appeal. If so the case will drag on for another long period as the Great Arbitration Court of the German Equestrian Federation will have to rule in the matter.
This is the second "doping" case in which Werth has been found guilty. In 2009 her horse Whisper tested positive to fluphenazine, a medicine used to treat shivering, at the CDI Wiesbaden. The FEI suspended her for six months and the German Equestrian Federation added another six months to that period, in addition.
If Werth accepts the 6 month suspension she will not be able to compete Lezard in the 2013 Nurnberger Burgpokal Finals. For 2014 she is aiming to qualify Don Johnson or her rising star Bella Rose for the German team for the 2014 World Equestrian Games in Caen, France.  Werth made her international show come back with El Santo a month ago after a one-year break  at the 2013 CDI Vienna.
In an interview with ST. GEORG, Werth has confirmed that she will appeal the verdict. "First we will wait for the substantiation of the first chamber, and then we'll see," Werth stated. "After we've read the substantiation we will appeal and then we'll go to the court of arbitration."
Photo © Astrid Appels
Related Links
Isabell Werth's Prohibited Medication Case Postponed
Isabell Werth Promises "Full Co-operation" in Cimetidine Prohibited Medication Case
Werth's Legal Battle in El Santo's Positive Medication Case Continues
Isabell Werth's El Santo NRW Tests Positive to FN Prohibited Medication
Werth Additionally Suspended for One Year by German Equestrian Federation
FEI Tribunal Sentence: Isabell Werth Suspended for Six Months
Isabell Werth Suspended - Whisper Tested Positive for Doping