German Dressage News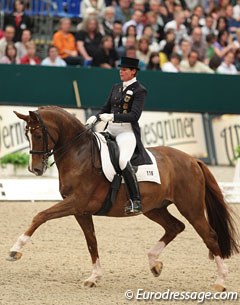 Ulla Salzgeber has ended Herzruf's Erbe's one-year field rehabilitation. She has pulled her 14-year old Rhinelander gelding from the pasture and put him back into show shape. The duo made a winning come back at the national show in Thyrnau, Germany.
Ulla Salzgeber's Herzruf's Erbe is one of Germany's strongest Grand Prix horses but niggling injuries have meddled with the horse's career throughout. In September 2012 Salzgeber announced that she would put her horse into the field for one year so he can recover from recurring issues which interrupted the horse's show career in 2009 and 2012 so far.
The 14-year old Herzruf's Erbe (by Herzruf x Caletto I) is bred by Dagmar Stroetges and owned by Salzgeber. At the CDN Thyrnau held at Gut Aichet in South Germany, the duo won the Grand Prix on Sunday 20 October 2013 with  73.936%. Tina von Block and Lautrec (by Lord Sinclair x Adlerschild xx) finished second with 69.787% and Stefanie Weihermuller and the Dutch bred Wunderkind (by Sydney x Elcaro) were third with 69.128%.
Only eight riders contested this national indoor Grand Prix class. The class was judged by  Heinrich Geigl, Uta Härlein, Uwe Mechlem, Johann Speth, and Katrina Wüst.
Photo © Astrid Appels
Related Links
One Year Break for Salzgeber's Herzruf's Erbe
Herzruf's Erbe's Injury Less Severe Than Feared
Ulla Salzgeber and Herzruf's Erbe Win 2008 Otto-Lörke Prize