Trakehner Breeding News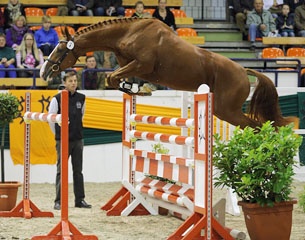 The second day of the 2013 Trakehner Stallion Licensing in Neumunster, Germany, on Friday 18 October 2013 was all about athleticism and several of the 2,5-year old stallions earned applause for theirs. Five candidates particularly excelled themselves in the free jumping. Two of them come from northern Germany, one from Westphalia, one from Lower Saxony, and one from Moscow.
The free jumping is just one of many phases for the young stallions en-route to gaining a much-coveted license. Gorbatschow (by Abendtanz), the half-breed stallion Rusticus (by Favoritas xx), Glücksruf II (by Dramatiker), Isle of Man (by Hirtentanz) and Tyson (by Tycoon) all impressed spectators with their overall form, technique and the requisite assets.  Whether or not the quintet will be licensed depends on more factors and the licensing committee of the Trakehner Verband will be keeping their cards very close to their chests for the time being.  It's all very hush-hush…
On the contrary, up on the rostrum people are more than happy to talk shop and to discuss the 42 young stallions being presented.  These four-legged candidates are clearly proof of what Breeding Director Lars Gehrmann was emphasising even before this year's stallion licensing had begun: that the crop of stallions being presented in Neumünster this year is an extremely strong one and one which promises to bring a great deal of success at auction.
On Saturday the riding horses, mares and foals will be auctioned. The quality of the horses on offer has generated a huge amount of interest from a number of both national and international buyers.   The presentation of the candidates for auction in Holstenhalle I attracted quite a crowd, and led to passionate discussions up on the rostrum.
Cote d'Azur wins the Prix St Georges in the Trakehner Dressage Championship
There was, however, one clear decision in the dressage arena which had been erected in Holstenhalle I: Having already claimed victory in 2012, jet-black Trakehner mare Cote d`Azur won the TSF Dressage Championship in the first round for a second time. The nine-year-old daughter of Cadeau out of a mother by Patricius xx had again been trained and was presented by World Cup champion and European Team champion Helen Langehanenberg from Havixbeck. She had come to Neumünster especially for the dressage championship, which the Trakehner Sportförderung (TSF), a sport promotion programme, has established as part of the stallion market. Cote d`Azur comes from Margit Eisner's stock and estate, and won the Prix St. Georges dressage test with great aplomb, with 73.68 per cent.
Second place went to 7-year-old black stallion Amadelio (by Lehndorff's x -Lauries Crusador xx) The stallion, which is resident at Gestüt Hohenschmark in Grebin, was presented by Dorothee Schneider (Framersheim). Schneider and Langehanenberg were both members of the Olympic team that won team silver in London in 2012. The stallion, who is just seven years old and was a finalist at the German National Championships, scored an impressive 71.00 per cent. The talented young gun was bred by Peter Oellrich. Amadelio and Cote d`Azur will be two of the many four-legged stars at the Trakehner Stallion Market Gala Evening.
Text by Martina Brüske
Related Link
The 2013 Trakehner Stallion Licensing Kicks Off in the Rain