Trakehner Breeding News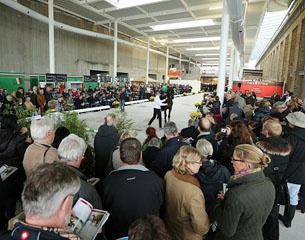 The 2013 Trakehner Stallion Licensing in the Holstenhallen in Neumunster, Germany, kicked off on Thursday 17 October 2013. The first leg of the licensing, the inspection on hard surface, took place outside, not in beautiful autumn weather, but in the pouring rain.  
Fortunately the new 'North Foyer' of the Holstenhallen provided ample space for everyone to avoid the deluge. Around 1,000 spectators packed into the foyer, which boasted  60 metres of well-prepared catwalk under a brand new roof.  The Holstenhallen "building site" could not really have offered a better première and, as a result, no-one really cared about the weather.
The Trakehner team worked right up to the last minute to ensure that the many visitors to the international stallion licensing were offered a suitable setting for the traditional stallion sale, despite the remodelling works.
Forty-two of the 47 registered stallions were presented in the opening of the Trakehner Stallion Market at 1.00pm, closely observed by the five-strong licensing committee, under the leadership of Lars Gehrmann, breeding director of the Trakehner Verband.
Even the trial run for the free jumping generated a great deal of curiosity, which was followed in Hall 1 by the first showing of the mares and riding horses up for auction.
The licensing will continue at 8.30am on Friday morning with the stallions' free jumping. After that, the mares and riding horses for the auction will be presented, as will the mare and colts. From 3.30pm onwards, the Trakehner Dressage Horse Championships will take place in the form of a Prix St. Georges dressage test.  Take note, the two highest-scoring competitors will participate in the final on Saturday evening as part of the Gala Evening. 
Photo © Stefan Lafrentz
Related Links
Distelzar, Trakehner Stallion of the Year 2013
2013 Trakehner Spring Stallion Licensing and Stallion Show
Donauruf, Champion of the 2012 Trakehner Stallion Licensing