Eurodressage Market - Photography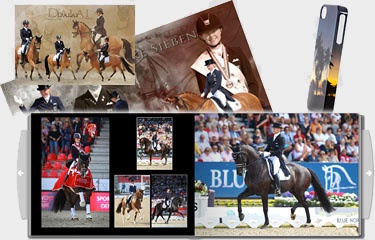 For the 2013 Christmas holidays, Eurodressage has four special offers for unique Christmas presents you can treat your family, friends, loved ones and even business clients with. This year we would like to offer our highly successful collages as well as hardcover photo albums, and smart phone covers with your Eurodressage photo of choice.
Be original, be creative and get a special Christmas present for your horsey friends!
Photo Collages
Do you want an original, unique and personal gift for the upcoming winter holidays, than a collage can be your thing!! Were you photographed over the years by Eurodressage's Astrid Appels, than email us and we can send you the contact sheets of your photos so you can pick and choose between 3 to 5 photos for your own personal collage.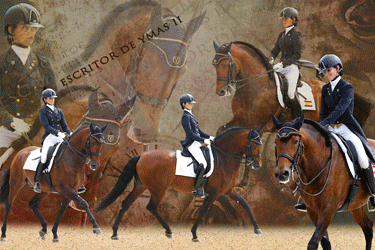 Did you compete at the CDIO Aachen, European Championships for Pony, Junior, Young Riders or Seniors, at the CDIO Roosendaal, Hagen, Compiegne, or Vidauaban? Or were you at the World Young Horse Championships in Verden? We were there!
Don't wait too long to get in touch as this is a limited offer if you want the poster ready before mid December! We can only handle a certain amount of collages (as it is time consuming to make these) so it will work on a first come, first serve basis!
Collage options
3 photos in the collage: size 40 x 60: 250 euro ---- size 50 x 75 cm: 275 euro
4 photos in the collage: size 40 x 60: 300 euro ---- size 50 x 75 cm: 325 euro
5 photos in the collage: size 40 x 60: 350 euro ---- size 50 x 75 cm: 375 euro
Photo Albums
Do you want the ultimate show memory? We can tailor a custom-made hardcover photo album on glossy high quality photo paper with the best photos of you at any show where we photographed you.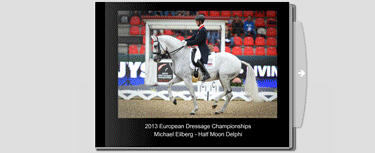 You can put this album on your coffee table to show to family and friends as the best way to remember a competition or championship.
Eurodressage only delivers the best of the best and we spend much time and effort into preparing the photos the best way and insert them in a beautiful way into the album.
Each album has a selection of approximately 30 photos all presented in a wonderful, large format
Photo Album Options
Large Photo Album = 28 cm x 21 cm = 275 euro
Extra Large Photo Album =38.8 x 29.1 cm = 450 euro
iPhone Covers
Choose a vertical Eurodressage photo of your liking and we'll make an iPhone cover of it. This makes a fun present for kids and mobile phone gadget geeks.
We can make covers for iPone 4/4s and 5, as well as for the Samsung Galaxy S4/S5
Cell phone cover = 35 euro
(Prices include postage and handling, excl. VAT)
Posters
Want to keep it very simple, just order a poster of your favourite Eurodressage photo.  Did you see a photo on Eurodressage taken by photographer Astrid Appels you are dying to have a print of, just send us your request and we'll have a gorgeous large poster printed of it.
Poster size 40 x 60 cm = 100 euro
Poster size 50 x 75 cm = 120 euro
Canvas
Our Eurodressage poster can also be printed on a canvas in a 3D frame.
Canvas size 40 x 60 cm = 225 euro
Canvas size 50 x 75 cm = 250 euro