2013 British Dressage Championships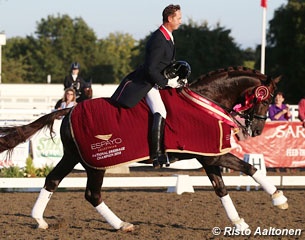 It was a sense of déjà vous at Stoneleigh on Sunday 22 September 2013 as spectators watched the maestro of dressage Carl Hester canter around with the winner's cooler on having claimed the Grand Prix Freestyle and National Dressage Champion titles 12 months on from the exact same sight last year.  In the beautiful light of the setting sun, Carl gave a perfect lap of honour display with Gemma Green's stunning liver chestnut stallion Fine Time as he bronked his way around much to everyone's amusement.
It was Carl's day once again and no one would begrudge him his 65th and 66th titles, plus becoming National Champion for an eighth time, equalling the record of the doyenne of dressage, Jennie Loriston Clarke.  "I'll just have to do it one more time!" jibed Carl.
It was a lively display of freestyle entertainment in the arena from start to finish and British Nations Cup rider Daniel Watson and Susie Farnon's Fideramber and when then put up a 70.73%, we knew it would be a good competition.   Judy Harvey and Fitzcerraldo, owned by Richard Heley stole into the lead with 72.05% before the break but her lead was short-lived as Emile Faurie with Julie Bradley's Topolino squeaked ahead with 72.28%.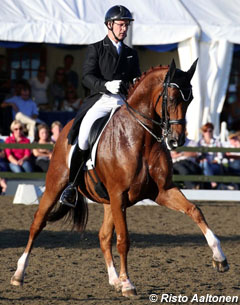 Michael Eilberg and Marakov were their powerful selves with a beautiful display – their canter to piaffe line impressed many and 73.98% was enough for the lead.  It wasn't long before the crowd say a change again when Lara Griffith came in with Andretti H and they danced to the familiar reggae beat which has claimed Laura Tomlinson two national titles.  The combination are still so new in the competition arena but they know each other inside out and today was all about fun.  Lara rode with a smile from ear to ear throughout which the judges clearly loved for 74.03%. 
Then in came Carl.  He'd declared his intention to ride to his 2011 European Championship score with the Florestan I sired 'Bruno' which won Carl an individual silver medal so he considers it lucky.  A whopping 76.65% put them into the lead with one to go.  It was all down to Anders Dahl with Fiona Bigwood's Wie Atlantico De Ymas.  There experience shone all the way but a final mark of 74.40% wasn't enough to take Carl's crown, but did give them second in a hugely competitive class.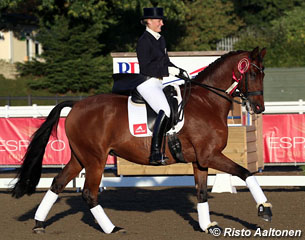 "He was brilliant again today," said a delighted Carl.  "He was a bit flat to start with in the warm up but then spotted Nikki Crisp's Pasoa who is a mare and he's madly fallen in love with her.  That certainly perked him up!  He went brilliantly to Uti's music but he's a bit slower than him so I had to shave bits of the arena to keep to the music!  Charlotte said I should have done my line of one-times again as I fluffed the first ones but I certainly don't remember that one!  Must be a sign of age!  I'm so happy for his owners Paul and Jenny Green.  Paul hasn't been well recently and couldn't make the trip from Jersey to watch him but hopefully the win will cheer him.   Racing is his passion really, it's Gemma (Appleton, his daughter) who is the dressage person.  We'll talk about his future but I'd be sorry to lose him – he's a great addition to the yard."
Photos © Risto Aaltonen
Text by British Dressage 
Related Links
Hester and Storr Take Saturday's Titles at the 2013 British Dressage Championships
Wilton and Eilberg Take First Titles at the 2013 British Dressage Championships
Scores: 2013 British Dressage Championships