2013 CDI Saugerties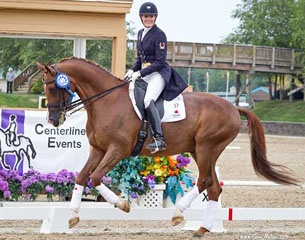 Canadian dressage athletes topped the leaderboard at the 2013 CDI Saugerties, NY, USA held at the HITS show grounds on 15 - 18 August 2013. Four-time Olympian and Toronto Native Ashley Holzer, currently residing in New York, USA took first place in both the Grand Prix and Grand Prix Special aboard Eliane Cordia-Van Reesema's Jewel's Adelante, a 13-year-Old Swedish Warmblood gelding by Don Schufro.
The pair earned a final score of 68.936% for their efforts in the Grand Prix test and 71.021% in the Grand Prix Special. 
"I was very pleased with Adelante's performance at this event. He belongs to my client who is on maternity leave at the moment. I'm showing him to be able to get a feel for him in the ring so I can better coach my client when she starts showing again this winter in Florida," commented Holzer. "He did a really great job here at Saugerties. We'll be back for the next show at Saugerties and then onto Devon."
Reserve rider for the 2012 London Olympic Games Diane Creech of Caistor Centre, ON and Devon L, Doug Leatherdale / Leatherdale Farm's 13-year-old Hanoverian gelding by De Niro, took second place behind Holzer, scoring 68.681% in their Grand Prix test and 70.563% in the Special, while two-time Olympian Jacqueline Brooks of Cedar Valley, ON rode D Niro, Brookhaven Inc's 14-year-old Swedish Warmblood gelding by D-Day, to third in the Grand Prix on a final score of 68.532%. David Marcus of Campbellville, ON rode his 2012 Olympic partner, Chrevi's Capital,  Deborah Kinzinger Miculinic's 13-year-old Danish Warmblood gelding sired by Chrevi's Lavallo to third place in the Grand Prix Special on a final score of 69.854%.
Brooks and D Niro went on to take first place in the Grand Prix Freestyle earning a final score of 71.550%. Marcus rode, Don Kontes, Deborah Kinzinger Miculinic's 13-year-old Swedish Warmblood gelding, sired by Don Schufro, to a second place finish in the Freestyle with a final score of 69.450%.
In the Prix St. Georges, Brittany Fraser of New Glasgow, NS and her mount, All In, an eight-year-old Dutch Warmblood gelding by Tango, won first place on a final score of 73.509%. Fellow Canadians Shannon Deuck, a British Columbia native currently riding out of Loxahatchee, FL rode Cantaris, a 10-year-old Hanoverian gelding by Compliment, owned by Elizabeth Ferber, to fourth place finish with a score of 68.026% and Maya Markowski of St. Clements, ON guided Lumiere, her 10-year-old Canadian Warmblood by Lynx, to fifth place with 67.281%.
"All In was amazing. He was so relaxed in the Prix St. Georges," said Fraser. "This was his first show since Florida, he was so tense there but here he was just so relaxed that he made it easy for me. Next up we'll do the next Saugerties and Devon in September. I'm really looking forward to both events."
Fraser and All In earned 72.632% in the Intermediaire 1 for anther first place finish and Markowski took second place on Lumiere with 69.386%. Diane Creech took third aboard Hallmark, Doug Leatherdale / Leatherdale Farm's eight-year-old Hanoverian gelding by His Highness, on their final score of 68.553%.
In the Young Rider division it was a triple play for Tanya Strasser Shostak of Ste Adele, QC, who rode Evi Strasser's Action Tyme, a 13-year-old Oldenburg gelding by Aktuell, to earn top scores in all their divisional tests. The pair produced a final score of 65.702% for the win in Y/R Team, and then 66.974% in the Y/R Individual test, closing out the event with their third, first place finish, on final score of 69.417% in the  Freestyle.
"This was our first competition since the NAJYRC in Kentucky last month so it felt a bit rusty coming in even though the championships weren't that long ago. It was hotter here than at home so it took a day for him to get used it to it but he performed really well in all his tests," commented Strasser Shostak. "He is such a great horse; he was very steady even when I felt I wasn't. He does it all so well. I'm hoping to get to Devon in the fall and then Florida for the winter, we'll have to see because I'm in college now so that would have to be worked out but we are definitely working towards that."
CDI Ground Jury for the event consisted of; President Axel Steiner, USA, 5*, Maria Colliander, FIN, 4*, Marian Cunningham, PER, 4*, Jo Graham, GBR, 4*, and Elizabeth McMullen, CAN, 5*.
Photo © Terri Miller
Related Links
Scores: 2013 CDI Saugerties
Young Rider Tanya Strasser Shostak Named Dressage Canada Equestrian Athlete of The Month