Canadian Dressage News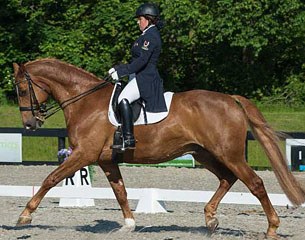 Canadian Young Rider Tanya Strasser Shostak of Ste Adele, QC, has accomplished a strong feat qualifying for the 2013 North American Young Riders Championships with no less than three horses. Furthermore, the ambitious rider has been named the Dressage Canada Equestrian Athlete of the Month for May based on her performances at the Angelstone CDI3* Tournament in Rockwood, ON in May.
At the May CDI Rockwood the 17-year old Strasser Shostak swept the Young Rider division on Action Tyme, her mom Evi Strasser's 13-year-old Oldenburg gelding sired by Akutell. The pair scored 66.886% in the individual, 64.561% in their team test and 68.900% in the Freestyle, taking first place in all three tests.  On Deluxe Tyme, Evi Strasser's 9-year-old Oldenburg gelding, she placed third in the Young Rider Team and fourth in her Freestyle.
Tanya trailered two horses to the national show in Boise Ogilvy near Montreal begin June to contest the Team Championships test. She won on Action Tyme with 65.724%. Two weeks later at the June CDI Rockwood, Strasser Shostak pulled a similar stunt and achieved a hattrick with Action Tyme, winning all three Young Riders classes with 65.921%, 67.500%, and 69.925%
"I am thrilled to learn that I have been named Dressage Canada Red Scarf Athlete of the Month. I have been very fortunate in having the opportunity to train with a couple of horses these past few months and am pleased with the results that I have been able to consistently achieve this past year with all of them. I truly feel like I am heading in the right direction and would like to thank everyone that has been involved in the creation and support of this award. Anyone who has ever won this award has worked hard to get where they are now and knows how meaningful it is to get recognized for it. I very much appreciate it and will try my best to achieve even greater successes in the future."

Of her partners Strasser Shostak remarked, "Action Tyme and I are a fairly new partnership so I couldn't be happier with what we have accomplished in such a short period of time. We are really starting to settle in well together and I simply couldn't ask for a more trust-worthy horse. Deluxe Tyme and I are also a fairly new partnership. I feel like we have really been able to strengthen our bond together lately and I could not be more happy with the progress we've made, not only in the show ring, but at home too."
Strasser Shostak is in a very unique position having qualified no less than three horses for the 2013 North American Young Riders Championships. While Action Tyme is her ride of choice for this continental championship, Deluxe Tyme and Dancing Tyme are listed as her alternate horses.
Photo ©  Mary White - Lone Oak Equine Photography
Related Links
Scores: 2013 CDI Rockwood
Canadian Teams Selected for 2013 North American Junior/Young Riders Championships
Evi Strasser Taking her "Tyme" to Nurture Great Talent
Evi Strasser, 2005 Dressage Canada Owner of the Year
Rider in the Spotlight: Evi Strasser, Having the "Tyme" of her Life