2013 Borculo Elite Foal Auction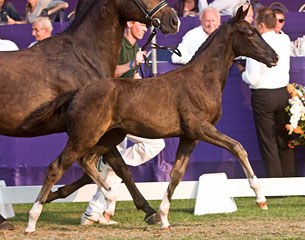 The bay KWPN bred colt I'm Special became the price highlight of the 2013 KWPN Elite Foal Auction in Borculo, The Netherlands, on 29 August 2013. The Charmeur x Negro colt sold for 46,000 euro tp Charmeur's co-owner Barend Tamerus.
The second most expensive foal was Issey, a colt by Bordeaux x , which sold for 44,000 euro to Blue Hors Stud. The most expensive filly was Indira Viana (by Zack x Don Romantic) which achieved a knock down price of 37,000 euro selling to Indian customers.
The colt Impression Texel (by Sorento x Jazz) sold for 35,000 euro, Ice King Texel (by Everdale x Farmer) for 36,000 euro. Idefix (by Dorado) also sold for 36,000 euro and will stay in The Netherlands.
Blue Hors Stud is a regular customer at Borculo and bought several foals, including two fillies, one of them is the full sister to the licensed Erlando (by Jazz).
An embryotransfer in-utero foal by Jazz out of Grand Prix mare Sisther de Jeu sold for 21,000 euro to Germany.
No less than 32 foals sold for more than 10,000 euro, which brought the average price to 12,000 euro. The colts were slightly more expensive
than the fillies. A total of 73 foals was auctioned as well as three
in-utero embryotransfer foals.
Photo © Sjoert.com
Related Links
75 Interesting Foals Selected for 2013 Elite Foal Auction Borculo
High Five, Price Highlight of 2012 Borculo Foal Auction
Gambo, Price Highlight of 2011 Borculo Elite Foal Auction
Excellent Average Price at 2010 KWPN Foal Auction in Borculo