2013 Pavo Cup Finals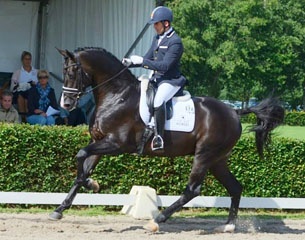 Two stallions, Everdale and El Capone, shared the lead in the 4-year old division of the 2013 Pavo Cup semi-finals which were ridden on Tuesday 13 August 2013 during the KWPN Horse Days in Ermelo, The Netherlands. Both horses scored 88.5 points and dominated a field of no less than 92 horses!
Spanish Severo Jurado Lopez steered the flashy black licensed stallion Everdale (by Lord Leatherdale x Negro) to victory with an 88.5 score but he had to share the glory with Marieke van der Putten on the black stallion El Capone (by UB40 x OO Seven).
Petri Bax and the chestnut stallion Esteban (by Florencio x Jazz) landed third place with 88 points and yet another stallion, Ebony (by Painted Black x Jazz) under Vai Bruntink, slotted in fourth with 88. The highest scoring mare was the bay Eos Utopia (by Ampere x Negro). Under Bart Veeze she finished fifth with 85.5 and tied with Justine Mudde on the gelding Excalibur (by Furst Romancier x Krack C).
Photo & Video © KWPN
Results - 2013 Pavo Cup - semi finals
4-year olds - (Top 20 only)
1. Severo Jurado Lopez - Everdale (by Lord Leatherdale x Negro) - 88.5
1. Marieke van der Putten - El Capone (by UB40 x OO Seven) - 88.5
3. Petri Bax - Esteban (by Florencio x Jazz) - 88
4. Vai Bruntink - Ebony (by Painted Black x Jazz) - 87
5. Bart Veeze - Eos Utopia (by Ampere x Negro) - 85.5
5. Justine Mudde - Excalibur (by Furst Romancier x  Krack C) - 85.5
7. Barbara van Groeningen - Eskara de Jeu (by Jazz x Jetset) - 85
8. Emmelie Scholtens - Elton Jochn Cl (by Johnson x Balzflug) - 84.5
9. Kyra Klinkers - Equirelle W (by Florett As x Donnerhall) - 83.5
10. Emmelie Scholtens - England Slottie (by Uphill x Jazz) - 83
10. Jose van Haaren - Evander (by Vivaldi x Jazz) - 83
10. Dinja van Liere - Etoile (by Don Schufro x Rubinstein) - 83
10. Cora Verlouw  Eye Catcher (by Vivaldi x Partout) - 83
14. Emmelie Scholtens - Estoril (by Zhivago x Gribaldi) - 82
15. Diederik van Silfhout - Expression (by Vivaldi x Vincent) - 82
16. Katia Smets - Happy Feet (by Don Jovi x Krack C) - 81.5
16. Maria Brouwer - Esperance (by Sorento x Rousseau) - 81.5
18. Chantal Nijpjes - Estee Lauder (by Santano x Rosssini) - 81
18. Stefanie Wolf - Elton John DVB (by Jazz x Fidermark) - 81
18. Dinja van Liere - Esprit (by Johnson x Gribaldi) - 81
18. Remi Kulik - Exposition Boy (by Spielberg x Obelisk) - 81
Related Links
Eva Vita Shines at 2013 Pavo Cup Qualifier in Hartpury
Desperado and Charmeur Win 2012 Pavo Cup Finals
Charmeur and Borencio Win 2011 Pavo Cup Finals