2013 Belgian Dressage Championships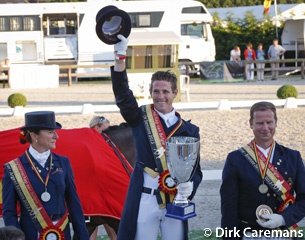 Pony rider Lavinia Arl, junior rider Charlotte Defalque, young rider Jorinde Verwimp and senior rider Simon Missian became the grand winners at the 2013 Belgian Dressage Championships held in Hulsterlo, Belgium, on 1 - 4 August 2013. Blessed with gorgeous, hot weather, the national championships ran smoothly though some weird judging left a sour after taste with several Grand Prix riders.
In the Grand Prix division Belgian shooting star of the moment Simon Missiaen ended up with the champion's sash. Aboard the Dutch warmblood mare Vradin (by Gribaldi x Michelangelo) he won the Grand Prix (69.128%) and Special (69.979%) and placed second in the Kur to Music (72.900%). Missiaen was on the road to win the freestyle as well, but German judge Reinhard Richenhagen scored him almost eight % lower than the rest of the panel. With an overall total of 212.007 points, Missiaen still edged out Claudia Fassaert on the Belgian warmblood mare Donnerfee (by De Niro x Rosenkavalier).
"It was a close battle for the Belgian champion between Simon and Claudia, with one judge's discrepancy of around 9 per cent nearly costing him the victory," said Missiaen's trainer Patrik Kittel. "It was a nervous wait as the points were counted and made for great sport, but it was cheers all around for the popular winner and it was a great moment for me as a trainer. Hopefully this big win will help Simon achieve more sponsorship. A hard working and diligent rider, Simon is in general totally self-funded along with the support of his father and it would be great to see some support go his way."
Silver medal winning Fassaert scored 68.83% in the Grand Prix, 69.750% in the Special and won the Kur with 73.300% to total 211.880 points. The bronze medal went to Philippe Jorissen and Le Beau (by Le Coeur x Classiker) after placing third in the Grand Prix (68.787%), fifth in the Special (67.438%) and third in the Kur (71.125%). Julie de Deken and Lucky Dance (by Lucky Lionell) were well on their way to claim that third, bronze step on the podium after a fourth and third place in the first two rounds, but in the freestyle, Richenhagen decided otherwise and scored De Deken's freestyle almost 6% lower than his colleagues. De Deken finished fourth overall (207.184) with a fraction less compared to Jorissen (207.350).
Arl, Defalque, Verwimp Dominate Youth Riders Division
Lavinia Arl left no doubt about it that she is the number one pony rider in Belgium after being the highest placed Belgian rider at the 2013 European Pony Championships a week earlier. With her Belgian Riding Pony gelding Equestricons Epiascer (by Ten Ankers Jerolianca x Large River Cleopas) Arl swept all three rounds with mid seventy percentage scores to find on a total of 222.464 points, well ahead of Kayleigh Buelens with Berlioz (by Benetton S x Dschingis Khan) who totalled 209.561 points. Lavinia's younger sister Antonia Arl and her dark bay eventing-pony-goone-dressage Defilee de Mode (by Danny Gold x Nightfever) were good for bronze with 208.768%.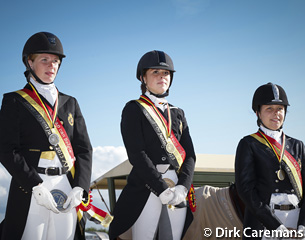 In the Junior riders division Charlotte Defalque produced a hattrick winning all three rounds with scores that kept increasing. After posting 67.730% in the team test, Defalque and her temperamental chestnut Dutch warmblood Botticelli (by Vivaldi x Koss) scored 70% in the individual and 73.525% in the Kur. With an overall of 211.255 points, Defalque became the national champion far ahead of all competition. Estelle Borremans and her Belgian warmblood Dynamite van 't Molenvondel (by Rockefeller van de Zelm x Fortuin Z) were second with a total of 202.509% while Evelien Peeters landed the bronze on her Flimflam (by Florestan x Akzent II) with a total of 193.917.
European bronze team medal winning Jorinde Verwimp topped off her best season ever so far with another national title in the Young Riders division. Verwimp and her Dutch warmblood gelding Tiamo (by Lester x Hemmingway) were untouchable with three victories, scoring 73.421%, 73.711%, and 77.150 to total 223.282. Far behind her but still with more than solid scores was Eline de Coninck on her German bred Don Warohn (by Dormello x Avus). She was thrilled with silver after totalling 210.875 points. Carole Schepens and her new ride Anouargant Sag (by Flemmingh x Jazz) moved into bronze medal position with 207.589 points.
Photos © Dirk Caremans
Related Links
Scores 2013 Belgian Dressage Championships
Julie de Deken to Replace Devroe on Belgian Team for 2013 European Championships
Arl, Verwimp, Waelkens, Devroe Win 2012 Belgian Dressage Championships
Jeroen Devroe Prevails at 2011 Belgian Dressage Championships
Jeroen Devroe Captures Sixth Belgian Grand Prix Champion's Title
Goris, Mommen, D'Hoore and Devroe 2009 Belgian Champions
Van Olst, Mommen, Vandenberghe Win 2008 Belgian Youth Riders Championships
Stefan van Ingelgem, 2008 Belgian Dressage Champion
Van Olst, Mommen, De Souter, De Deken and Devroe, 2007 Belgian Dressage Champions
Arlette Holsters and Faible Win 1998 Belgian Dressage Championships
Meiresonne, Pauluis, Smits, 1997 Belgian Youth Riders Champions