2013 European Dressage Championships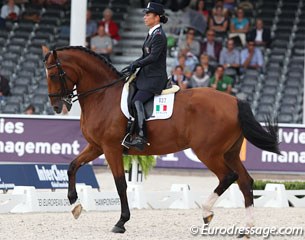 The Italian Equestrian Federation (FISE) has proven once again to be completely erratic in its behaviour and decision making, bending their own rules for senior Grand Prix team selection, but keeping its leg firm for its young riders when it comes to representation at the 2013 European Championships.
FISE surprisingly announced that it will send a team of four Grand Prix riders to the 2013 European Dressage Championships in Herning, Denmark, on 20 - 25 August 2013, while only three riders have actually fullfilled the selection criteria. Italian chef d'equipe Laura Conz has decided to send Valentina Truppa (Eremo del Castegno) and her two students Micol Rustignoli (Corallo Nero) and Federica Scolari (Beldonwelt) to Herning. She has added Ester Soldi (on Harmonia) as fourth member to the team, even though Soldi never obtained three 66% scores at CDI's as mandatory selection criterium.
Three weeks ago the parents of four Italian young riders were in an uproar when Conz decided not to send an Italian team to the 2013 European Young Riders Championships in Compiegne, because none of the young riders had achieved the criterium of 66% thrice in the team tests. Three combinations had achieved similar 66 and 67% scores in the team and individual test combined, but Conz proved to be totally unflexible and unwilling to give children this most treasured and coveted experience of competing at their ultimate goal: the European Championships. However, for the seniors she is willing to turn her face away from the rules she has set herself.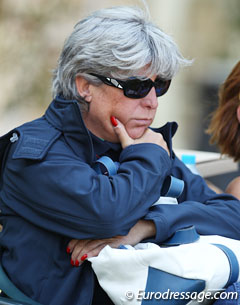 In previous years, Italy refused to send a full team to the 2010 World Equestrian Games (no Italians there) and 2011 European Championships (3 on a team) because there were no four riders in the country able to achieve the set 66% standard. The fact that having Italian team representation in general at such big event or  that the country would give its rising Grand Prix riders the opportunity to compete at big shows and earn more experience, were invalid factors to the FISE Dressage Selectors at the time.  This year Soldi did get accepted, to the anger and severe frustration of several other hard fighting Italian Grand Prix riders, such as Silvia Rizzo, Anna Paprocka Campanella, and Monica Iemi.  FISE refuses to provide clear answers on what basis Soldi was picked and why the rules were bent for her and not for the young riders or the other Grand Prix riders.
Italian O-judge Enzo Truppa, father to Valentina Truppa, praised the decision of FISE to bend to rule to this purpose. On Facebook Truppa wrote "Fise has proven to have an intelligent vision of international competition by sending a team of four pairs to the European Championships in Denmark, both to secure that the team can count on the fourth rider and discard score. This is to prove to the judges and professionals that there others behind Valentina's team. Brava Fise and its responsibility."
Eurodressage contacted Laura Conz and FISE but so far they have not made the time to reply.
Photos © Astrid Appels
Related Links
Eurodressage Coverage of the 2013 European Dressage Championships
Only One Italian Junior to Compete at 2013 European Junior and Young Riders Championships
Laura Conz Appointed Italian Dressage Chef d'Equipe
Confusion About Italian Dressage WEG Team Selection
Italian Tragedy: Italian Equestrian Federation's Board of Directors Disbanded
Tutto Dressage: Ma Stiamo Scherzando? (in Italian)