Italian Dressage News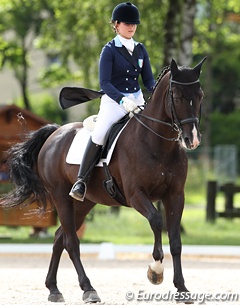 The Italian Equestrian Federation (FISE) and chef d'equipe Laura Conz have decided to send only one individual junior rider to the 2013 European Junior and Young Riders Championships in Compiegne, France, next week, severely disappointing a group of four Italian Young Riders who have campaigned extensively this spring for team selection.
FISE is in crisis at the moment as the election of president Antonella Dallori has been declared void and major fraud and embezzlement of money, dating back to the previous presidency, has been discovered in the accounting of the federation. This is currently all under research. 
Even though Italy is still a developing dressage country, Laura Conz decided it was in the best interest of the country to set the tough selection criteria of 3x 66% in a team test as obligatory demand to be considered for the team.  The rule stipulates that the combinations must have obtained FISE qualifications, by obtaining a total percentage of 66 in their own Team Test categories in at least 3 CDI (CDI3* or higher-  CDIJ - CDIYR – CDIP). Combinations are allowed to obtain only 1 qualification in Italy and only 1 between  September 1st 2012 and  December 31st 2012.
"We strongly feel that this qualification system is very feasible," Conz told Eurodressage. "It is a question of first-class programming and early preparation, this should ensure that all promising juniors and young riders are well qualified and ready to participate in their respective European Championships. We must respect the norms laid down, it is extremely unfair to the riders who have followed the federal programme and achieved the qualifications set out by the FISE by issuing an exemption to the rules to the unqualified riders."
Four Young Riders were in the running for team selection Chiara Prijs Vitale, Vittoria Zaniboni, Arianna Scardacchi and Arianna Petroncini. Many of them scored over 66% in team or individual tests at several CDI shows during the 2013 show season, but none were able to achieve the criterium thrice in the actual team test.
Italy's highest scoring young rider, Chiara Prijs-Vitale, broke her back in a riding accident in February 2013 and was only able to return to competition in June. She scored 67.605% in a senior Prix St Georges at the CDI Compiegne and 66.053% in the YR team test at the CDIO Hagen. FISE refuses to make an exception for her extraordinary circumstances.
The selected junior rider who will represent Italy as sole competitor is Camilla Mauro. "Camilla Mauro is going as a junior according to our qualification system. She will be accompanied by 2 officials," Conz stated.
Interestingly, in 2014 the European Junior and Young Riders Championships will be hosted in Arezzo, Italy. Hopefully more Italian riders will be able to represent the country on home turf.
Photo © Astrid Appels
Related Links
Eurodressage Coverage of the 2013 European Junior/Young Riders Championships
Chiara Prijs Vitale Injured in Riding Accident
Laura Conz Appointed Italian Dressage Chef d'Equipe