Canadian Dressage News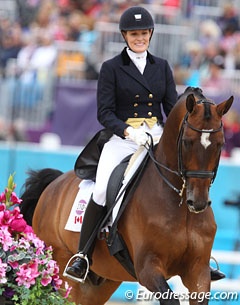 Canadian riders wishing to be considered for selection to the 2014 World Equestrian Games must declare their interest to the Equine Canada Dressage Office, in accordance with the selection criteria.
The qualification period runs from July 1st, 2013 - June 29th, 2014. During this time, rider/horse combinations must achieve four Grand Prix scores at four different CDI3* or higher competitions. Each submitted panel score must be 68% or better. For automatic qualification the sum of the four (4) panel scores when averaged together must equal 70%, or better. All scores must be achieved from a full panel of five FEI judges, and each judging panel must be non-identical.
"We are very pleased with this important change towards a score based criteria that sets the bar higher and clearly shows our commitment to strive towards excellence," said Jean-Christophe Gandubert, CEO of Equine Canada. "The process for setting the WEG Selection Criteria has generated great discussions and forced all involved, including the athletes, to recognize the level of the competition we face on the World stage. It is also a statement of our faith in the talent we have in Canada and our ability to get back to the top level."
Dressage Canada will select the rider/horse combinations that will represent Canada at the 2014 Alltech FEI World Equestrian Games on or before Monday, July 7th, 2014.
The 2014 World Equestrian Games is comprised of the world championships for eight equestrian sports, and will be held from August 23rd - September 7, 2014, in Normandy, France. The Dressage Competition will take place at the Stade d'Ornano from August 25th - August 29th, 2014.
Anyone with questions on the criteria are asked to direct those questions to Christine Peters, Manager Dressage, Equine Canada at cpeters@equinecanada.ca
Photo © Astrid Appels
Related Links
Canadian Listed Dressage Riders for 2013 Announced
2013 Canadian Dressage Officials Bursaries Announced