2012-2013 KNHS CHIO Cup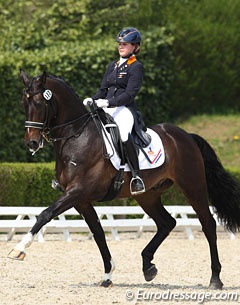 Dutch junior rider Jeanine Nieuwenhuis and young rider Stephanie Kooijman won the finals of the 2012-2013 KNHS CHIO Cup show circuit held during the 2013 CDIO Rotterdam on Wednesday 19 June 2013. The CHIO Cup is an important show circuit for Dutch junior and young riders and counts as observation trial for team selection for the European Championships.
In the junior riders' division 2012 Dutch European Championship team rider Jeanine Nieuwenhuis took the overall title aboard the 7-year old Baldacci (by Havidoff) after beating the winner of the first round, Jasmien de Koeyer and the Dutch bred Take it Easy (by Florestan), in the kur to music finals on Wednesday evening 19 June 2012. Nieuwenhuis scored a winning 74.500 in the kur and placed third in the first round with 70.189%. Jeanine Nekeman and the Dutch bred bay gelding Vlingh (by Flemmingh) were fifth in the first round with 68.514% and third in the Kur (70.800%) but that placed them overall second in the CHIO Cup Finals.De Koeyer surfaced at the top with a 72.135% score in round one, but dropped to sixth place in the kur with 66.725% so she ended third overall.
Stephanie Kooijman and her tall black gelding Winston (by OO Seven) reigned supreme in the Young Riders division and kept all her rivals far at bay with her 75.974% score in round and her winning 74.975% kur score. . Anne Meulendijks and the bright bay gelding Avanti (by United) slotted in second with 71.447% in round 1 but she chose to ride her second horse Ohio for the Kur Finals. After a fifth place with 68.421% in round one and a second place in the kur with 72.025% Meulendijks became the overall runner-up this year. Junior Jeanine Nieuwenhuis was also a force to be reckoned with in the young riders division. On Truemanda she was fourth in round one (68.632) and fourth in the kur (69.450%) and placed third overall.
Photo © Astrid Appels
Results - 2013 KNHS CHIO Cup Finals - Rotterdam
Junior Riders - Round 1 - Team Test
Judges: Reijs, Van der Harst, Smit, Wolters, Van Nispen
1. Jasmien de Koeyer - Take it Easy - 72.135
2. Dana van Lierop - Sting - 72.081%
3. Jeanine Nieuwenhuis - Baldacci - 70.189%
4. Rosalie Bos - Bolita - 70.000
5. Jeanine Nekeman - Vlingh - 68.514
6. Aimee Weise - Sportlife - 66.892
7. Madelon Franke - Merudin la Haya - 66.730
8. Lotte Meulendijks - Parole - 65.892
9. Sanne Gilbers - Bud Spencer - 65.568
10. Sanne Vos - Amazone - 64.297
11. Robin Bernoski - Zorro - 64.162
12. Nicole van Niedek - Amigo - 63.973
13. Mabel Kwakkelstein - Outsider - 63.865
14. Xaviera Hoekstra - Ruby - 61.622
Junior Riders - Round 2 - Kur to Music
Judges: Van Daele, Gardner, Tornblad, Van Nispen, Hoevenaars
1. Jeanine Nieuwenhuis - Baldaci - 72.344
2. Aimee Weise - Sportlife - 70.925
3. Jeanine Nekeman - Vlingh - 70.800
4. Madeline Franke - Merudin la Haya - 69.825
5. Lotte Meulendijks - Parole - 68.650
6. Jasmien de Koeyer - Take it Easy - 66.725
Junior Riders - 2013 CHIO Cup Final Ranking
1. Jeanine Nieuwenhuis - 72.344
2. Jeanine Nekeman - 69.657
3. Jasmien de Koeyer - Take it Easy - 69.430
4. Aimee Weise - Sportlife - 68.908
5. Madelon Franke - Merudin la Haya - 68.277
6. Lotte Meulendijks - Parole - 67.271
Young Riders - Round 1 - Team Test
Judges: Reijs, Wolters, van Nispen, van der Harst, Smit
1. Stephanie Kooijman - Winston - 75.974
2. Anne Meulendijks - Avanti - 71.447
3. Debora Pijpers - Now I'm Here - 69.184
4. Jeanine Nieuwenhuis - Truemanda - 68.632
5. Anne Meulendijks - Ohio - 68.421
6. Rosalie Mol - Legend - 67.632
7. Sanne van Grotel - Melvin V - 67.158
8. Denise Nekeman - Ridderkerk - 66.895
9. Floris Mak van Waay - Trappel - 66.816
10. Stephanie Jensen - Heartbreaker - 64.789
11. Jill Huybregts - Zamacho - 64.763
12. Maxime Osse - Navarro - 64.184
Emma Peper - Westenwind - DNS
Young Riders - Round 2 - Kur to Music
Judges:  Hoevenaars, van Nispen, Van Daele, Gardner, Tornblad
1. Stephanie Kooijman - Winston - 75.474
2. Anne Meulendijks - Ohio - 70.223
3. Jeanine Nieuwenhuis - Truemanda - 69.041
4. Rosalie Mol - Legend - 68.666
5. Floris Mak van Waay - Trappel - 67.570
6. Denise Nekeman - Ridderkerk - 67.535
Young Riders - 2013 CHIO Cup Final Ranking
1. Stephanie Kooijman - Winston - 75.474
2. Anne Meulendijks - Ohio - 70.223
3. Jeanine Nieuwenhuis - Truemanda - 69.041
4. Rosalie Mol - Legend - 68.666
5. Floris Mak van Waay - Trappel - 67.570
6. Denise Nekeman - Ridderkerk - 67.535
Related Links
Vos and Kooijman Win Final Qualifier of 2012-2013 KNHS CHIO Cup in Heiloo
De Koeyer and Kooijman Win Fifth Leg of 2012-2013 KNHS CHIO Cup
De Koeyer and Kooijman Win Fourth Leg of 2012-2013 KNHS CHIO Cup
Van Lierop and Houtvast On Repeat at Third Leg of 2012-2013 KNHS CHIO Cup Qualifier
Van Lierop and Houtvast Win Second Leg of 2012-2013 KNHS CHIO Cup in Assen
De Koeyer and Kooijman Win First Leg of 2012-2013 KNHS CHIO Cup