2013 World Championships for Young Dressage Horses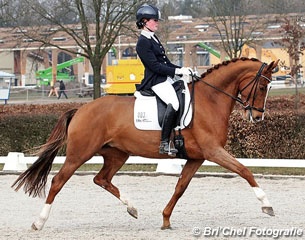 The Dutch selection trials for the 2013 World Young Horse Championships were picked up again on Tuesday 18 June with a fourth observation trial at the KNHS centre in Ermelo, The Netherlands. Several cuts have been made to the long-list of horses in the running for Verden.
Each combination had to perform one of the dressage tests ridden in Verden, followed by a short training session with selector Johan Hamminga. Based on the performances, the selection committee cut a few horses from the long list and will not be allowed to return for the next selection event on 1 July 2013.
Horses dropped from the long list are Dundee M, Dibert L, Dolcevendy, Dude, Danci, Djack Johnson, Capetown, and Citho.
Still in the running are:
5-year olds
Dancer (Vivaldi x Tango) - Kirsten Brouwer
Danci (Ziesto x Oscar) - Gerdine Maree
Dark Pleasure (Ufo x Jazz) - Gerdine Maree
Davina DVG (Johnson x Ulft) – Lisanne der Nederlanden
Desperado (Vivaldi x Havidoff) - Emmelie Scholtens
Didando (Tuschinski x Jestset-D) - Vai Bruntink
Don Juan de Hus (Jazz x Krack C) - Jessica Michel
Don Tango B (Contango x Jazz) - Diederik van Silfhout
Dorado (Krack C x Rousseau) - Emmelie Scholtens
Dream Boy (Vivaldi x Ferro) - Gerdine Maree
6-year olds
Cachet L (Jazz x Ferro) - Mirelle van Kemenade-Witlox
Capri Sonne jr (Rhodium x San Remo) – Dinja van Liere
Charmeur (Florencio x Jazz) - Emmelie Scholtens
Charon (Rubiquil x Havidoff) - Thamar Zweistra
Chardonnay (Winningmood x Flemmingh) - Vai Bruntink
Che de Jeu (Voice x Jazz) – Marieke van der Putten
Chicago M.H. (Vivaldi x Montecristo) - Jonna Schelstraete
Casper (Westpoint x Goodtimes) - Hans Peter Minderhoud
Clarc (Dreamcatcher x Lord Sinclair) - Lars op 't Hoog
Coco Chanel (Sandreo x San Remo) - Patrick van der Meer
Photo © Bri'Chel Fotografie
Related Link
Eurodressage Coverage of the 2013 World Young Horse Championships