2013 Bundeschampionate Qualifier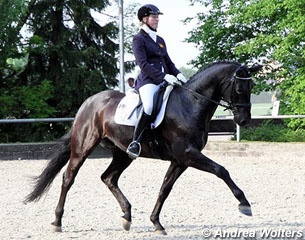 The 5-year old Florentiana and the 6-year old Lord Wallonia were the winners of the Bundeschampionate qualification classes held at the regional show at Linslerhof in Uberherm, Germany, on 8 June 2013. A good group of 5-year olds and a small group of 6-year olds were entered to compete at this event but only one combination was able to achieve the criterium of 8.0 or higher. 
Kerstin Muller and the mare Florentiana (by Florestianer) dominated the 5-year old division winning the class with 7.9. Stefanie Kerner and the Hanoverian bred Solitaire Black P (by San Amour) were the runners-up with 7.8.
In the 6-year old division the Spanish Chloe Morris Talbot and the black Rhinelander Lord Wallonia (by Lord Loxley) produced a solid performance and put a respectable score of 8.5 on the board to win the M-level class. Anna Kirkegaard and the Trakehner bred Heilinger (by Oliver Twist) finished second with 7.8.
Photo © Andrea Wolters
Results - 2013 Bundeschampionate Qualifier - Linslerhof/Uberherm
5-year olds
1. Florentiana (by Florentianer) - Müller, Kerstin - 7.90
2. Solitaire Black P (by San Amour) - Kerner, Stefanie - 7.80
3. Seraphine (by Scolari) - Mohr, Roxana  - 7.70
3. Ferguson Delux (by Fürst Piccolo) - Riha, Kevin - 7.70
5. Ballon Bleu (by Krokan) - Möller, Kristine - 7.60
6. Kaiserzauber (by Van Deyk) - Kronenberger, Michaela -  7.50
7. Fürst Gutenberg (by Florestano) - Cherevishnya, Nataliya - 7.40
8. Lord de Luxe (by Lord Loxley) - Engelbert, Markus  - 7.20
9. Lady Farbenfroh  (by Londontime) - Schulmerig, Michele - 7.10
10. De Burgh  (by Don Schufro) - Häschke, Antje -  7.00
11. Donna Frederika  (by Don Frederico) - Zeppke, Anna - 6.70
11. Ricoletto B  (by Rascalino) - Zimmermann, Viktoria - 6.70
13. Aristoteles (by Kaiser Wilhelm) - Bintner, Viviane - 6.10
14. Favore del Mio  (by Florentianer) - Schuh, Melanie - 5.90
6-year olds
1. Lord Wallonia (by Lord Loxley) - Morris Talbot, Chloe - 8.50
2. Hellinger (by Oliver Twist) - Kirkegaard, Anne -  7.80
3. Rapallo  (by Rotsporn) - Riha, Kevin -  7.40
4. Seagal (by Stedinger) - Lempart, Stefanie  -  7.30
5. Fioretto  (by Fidertanz) - Loon, Arjan van -  7.00
6. Dinero Negro S  (by Dancier) - Ziegler, Petra- 5.90
Related Link
Eurodressage Coverage of the 2013 Bundeschampionate