Rhinelander Breeding News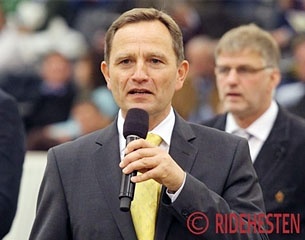 The Board of Directors of the Rhinelander Breed Society and Hanoverian society have decided to join forces and co-operate while maintaining their independent brands and trademarks.
The co-operation includes selection, registration, administration and marketing and only applies for members of the "Rheinisches Pferdestammbuch" and the "Hannoveraner Verband." The Executive Board of the Hannoveraner Verband will present the agreement to its delegates in an extraordinary general assembly in August.
Selection of mares and stallions will be jointly implemented. There are plans to already accept members of the Rheinisches Pferdestammbuch and their horses (Rhineland and Westphalia) for the Hanoverian Stallion Licensing in October 2013. One representative of the Rheinisches Pferdestammbuch will be submitted to the Hanoverian Stallion Licensing Committee.
Another important issue for the alliance is the mutual assistance in marketing strategies with the aim to considerably foster the joint market position. The Horse Centre in Wickrath is located at one of the most favourable venues for selling sport horses in Germany. The triangle Wickrath, Alsfeld and Verden provides a strong foundation for the domestic market. Rhinelander Breeders will benefit from an improved access to international markets. The combination Verden-Wickrath offers many possibilities and direct advantages for both partners when it comes to enlarged additional marketing strategies.
The managing director of the Rhinelander breed society Theo Leuchten, stated that "our discussions were open, full of trust and focused on targets. This decision secures the future of the warmblood breed in Rhineland." Manfred Schaefer, Chairman of the Hannoveraner Verband, is also convinced of the correctness of this decision: "We perfectly match each other. The breeders of the Rheinisches Pferdestammbuch have successful horses, partially tracing back to a Hanoverian basis."
Both breeding and business managers, Martin Spoo and Dr. Werner Schade, agreed: "This co-operation is meant to prepare a fusion. A clear signal should be set for the necessary structural reforms of the German sport horse breed."
Source: WBFSH - Photo © Ridehesten
Related Links
Westfalian Society to Co-Operate with Oldenburg Society
Wilken Treu Appointed Breeding Director of the Westfalian Society
Westfalian Society Votes on New Board of Directors to Restore Confidence