2013 Bundeschampionate Qualifier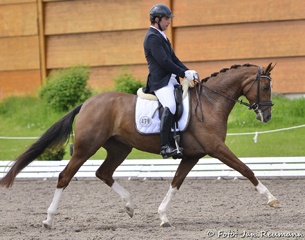 The 5-year old Sol de Espagne and the 6-year old Fairwell topped the leader board in the dressage horses classes at the 2013 Bundeschampionate qualifier held annually at Hofgut Petersau in Frankenthal, Germany. With the BuCha qualification classes set on 10 May 2013, a total of 23 horses were scheduled to appear at the event.
The 5-year old division was won by German based Hungarian Grand Prix rider Robert Acs on the Oldenburg bred Sol de Espana (by Fidertanz x De Niro). He scored 7.8 to win the class. Roxana Mohr and the Hanoverian mare Seraphine (by Scolari) finished second with 7.6, while Meike Lang and the Baden Wurttemberger bred Lord Frodo (by Lord Loxley) completed the top three with her 7.5 score.
Robert Acs was also in charge of the 6-year old division in which the horses have to do an M-level test. Aboard his Hanoverian Fairwell (by Fidertanz), he scored 7.70 to earn the trophy. Meike Lang and the Baden Wurttemberger bred Rockingham (by Rockwell) were the runners-up with 7.2.
Photo © Jan Reumann - Jan was at the CDN Frankenthal competition and photographed all major classes. Contact him for photo orders
Results - 2013 Bundeschampionate Qualifier - Frankenthal
5-year olds
1. Sol de Espana - Acs, Robert - 7.80
2. Seraphine - Mohr, Roxana -    7.60
3. Lord Frodo  -  Lang, Meike   -   7.50
4. Maksim - Pratschke, Meike-Kristine  -   7.30
5. Kilimandscharo -  Wetz, Fernand - 7.20
5. Ricoletto B  -  Zimmermann, Viktoria - 7.20
7. Ferguson Delux - Riha, Kevin - 7.00
8. Quecksilber -  Haub, Katja  -    6.80
8. Wait for you  -   Herrmann, Carmen - 6.80
10. Forever Peter - Dlugos, Andrea  -  6.70
10. Dancing Shadow -   Fritz, Daniel -   6.70
12. Dancing Mirena - Eckstein-Unger, Anica -  6.60
13. Tilly - Brünen, Stefan -  6.40
14. Do It Sometimes  -  Vogt, Alexandra - 6.30
Fidertanz Finest - Silberzahn, Bettina  - DNS/RET
6-year olds
1. Fairwell - Fidertanz    Acs, Robert - 7.70
2. Rockingham - Lang, Meike - 7.20
3. Zauberdeyk-  Arjes, Kim -   6.70
3. Rapallo C.L.   -  Riha, Kevin - 6.70
5. Hofrätin   - Lang, Meike -  6.50
6. Denaria -  Reuter, Dominique -  6.10
Independant Girl  - Pfeiffer, Kim - RET/DNS
Herston   -   Schneider, Anja - DNS
Related Link
Eurodressage Coverage of the 2013 Bundeschampionate