2013 World Cup Finals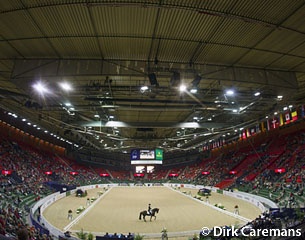 FEI press release -- As the fate of the 2013 World Cup Dressage title hangs in the balance ahead of tomorrow's deciding Freestyle, the big question on many lips is whether Germany's Helen Langehanenberg can prevent double-champion, The Netherlands' Adelinde Cornelissen, from making it a back-to-back hat-trick of wins with Parzival. However gone are the days of easily predicting the winning combination in this sport which has experienced an extraordinary transformation in recent years.
A decade ago the battle would be fought between just a couple of red-hot contenders, with the rest trailing a long way behind. However rising standards of professionalism and horse-power have changed all that, as was demonstrated by a host of super-competitive performances in yesterday's Grand Prix. 
Expectation
Expectation was that Cornelissen would be closely pressed at this year's Final by Langehanenberg who, as she says herself, has "grown up" over the last few seasons of the indoor series.  She has certainly honed her exceptional skills to become a significant threat to the defending champion's supremacy thanks to some impressive results with her stallion Damon Hill NRW, and yesterday that was confirmed when she topped the Grand Prix while the Dutch rider had to settle for fourth place when things didn't go according to plan. 
Cornelissen however is not one to be easily dismissed.  As Isabell Werth said this afternoon, "Adelinde yesterday lost her spot as favourite to take the title again, but it could still change tomorrow - we will have to wait and see!"  The multi-medalled German rider also believes that Cornelissen's Dutch compatriot, Edward Gal, could provide the most powerful threat of all.  
"Before it seemed this World Cup battle was between Helen and Adelinde, but then suddenly Edward was really good in Den Bosch at the last qualifier", Werth explained.  "I think now he can push them both tomorrow, and after that there will be four others fighting for their places between fourth and eighth" she added.  No doubt, Werth herself will be in hot contention in that second group with her ever-improving 12-year-old Don Johnson FRH.
Top End
At the top end of the game however, all eyes will be on Langehanenberg.  She demonstrated supreme calmness and confidence yesterday when securing victory despite the colossal pressure of being first into the ring. "I used to be nervous" she admitted when interviewed today, "but I've learned to control that and not let it control me anymore.  As soon as I start to think about the test I put it out of my mind again and don't let it take me over.  I've learned how to deal with nerves, and it has paid off" she explained. And she added "Dami (Damon Hill NRW) is in really great form.  It wasn't easy going in first yesterday, but he helped me so much because when we were coming up the tunnel to go into the arena he was pulling me so hard, like he was saying "come on! let's get in there and do it Helen!".
She has an advantage over many others in that her equestrian career has been all-embracing.  She worked and trained with Ingrid Klimke during her teenage years, competing in Jumping and Eventing, before deciding to specialise in Dressage, and believes this has paid dividends.  "It taught me about balance and feeling which are so important" she said.  Her career really took off when she was selected as reserve rider for the German Dressage team for the 2008 Olympic equestrian events in Hong Kong with the lovely mare Responsible.  "Then Dame came, and he is such a special horse, together we made it to the World Cup Final three years ago and that was a very big step forward" she explained.  And she couldn't  resist adding "its very exciting because Responsible and Dame have a baby together, born only last Monday!"
Final Challenge
There is little chance of Langehanenberg becoming complacent before tomorrow's final challenge however.  She is very grounded, and said today "I have a good feeling, but every day is a new day and if I ride well, our test fits with the music, I try to have no mistakes and we both enjoy ourselves then the rest is not in our hands".   
According to the rules of the World Cup Dressage Final, all participants who finish the Grand Prix with at least 58% qualify for the Grand Prix Freestyle, so all 17 who competed yesterday have made the cut.
The action begins at 13.20 local time when Canada's Jaimey Irwin enters the arena with Lindor's Finest and will be brought to a close by the defending champions Cornelissen and Parzival at 16.15.  It promises to be a thriller from start to finish.
by Louise Parkes for the FEI, edited by ED
Photo © Dirk Caremans - Dirk is on the scene in Gothenburg taking photos of the World Cup Finals in Dressage and Show jumping. Contact Dirk directly for your photo requests.
Related Link
Eurodressage Coverage of the 2013 World Cup Finals