Belgian Dressage News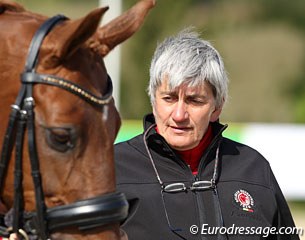 The Belgian Equestrian Federation (KBRSF) will be sending out full-force teams for the youth riders' division at the 2013 CDIO Saumur in France, on 2 - 5 May 2013. Belgian chef d'equipe Laurence van Doorslaer selected teams of four riders for the pony, junior and young riders' competition.
"Our youth is doing really well," an enthusiastic Van Doorslaer told Eurodressage. "The pony division in Belgium is very well filled with 25 FEI level combinations this year and the quality of the ponies is also better. Many pony riders are between 12 and 13 years of age."
Adding that some Belgian pairs are not available to compete at Saumur because of school duties, Van Doorslaer will also have complete teams competing at the CDI Roosendaal in May.
In April the Belgian youth riders prepared for the international outdoor show season by showing at two big national premier league competitions in Zandhoven and Moorsele.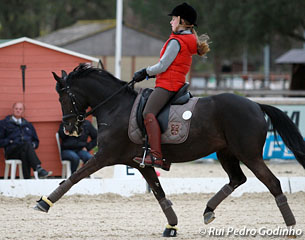 In Zandhoven, the Arl sisters Lavinia and Antonia dominated the pony team test aboard Equestricons Epiascer (by Ten Ankers Jerolianca x Large River Cleopas) and Defilee de Mode (by Danny Gold x Nightfever) scoring in the upper sixtees. Numa Verberne won the individual test on Dollarboy with 70,793%. Former Belgian pony team rider Charlotte Defalque made a strong stand in the junior riders classes on the 7-year old Dutch bred Boticelli (by Vivaldi x Koss-, whereas routinier Jorinde Verwimp and Tiamo (by Lester x Hemmingway) wielded the axe of power in the young riders' classes.
In Moorsele Kayleigh Beulens and Antonia Arl battled it out for supremacy in the pony classes. The former won the team test with 71.28%, while the latter was second with 70.25%. In the individual test Arl aced the class with 70,976% and kept Beulens at bay (69.02%). In the junior division Lavinia Arl made her second show appearance on her horse Equestricons Next One (by Florestan x Parademarsch I) winning the team test with 71.41% and individual test with 68,289%. Long-time Belgian team rider Alexa Fairchild grabbed the victory on Totall Tip Top (by Metall) in the young riders' class with 68,487%.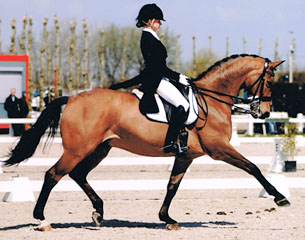 When asked about her junior riders' debut, Belgian pony rider Lavinia Arl told Eurodressage that "the European Pony Championships are my  goal this season and it would be great if I could make it on the team together with my sister Antonia," she admitted. "It's also fun to start competing Equestricons Next One this year just to gain some experience aboard horses. We've only been together for a few weeks and it's great to get to know each other, not only at home but also at shows. My trainer Carmen de Bondt is a great help. She gives me confidence and strength."
The teams selected to compete at the 2013 CDIO Saumur are:
Pony Riders - CDIO
Antonia Arl -  Defilé de Mode
Lavinia Arl - Equestricon's Epiascer
Kayleigh Buelens - Berlioz
Laura De Graeve - Rasputin
Reserve: Elle Peytier - Icarus
                           
Juniors - CDIO
Lavinia Arl - Equestricon's Next One 
Charlotte Defalque - Boticelli
Leyla Larsson - Sir Oliver
Nastasja Roussel  - Amageddon
Reserve: Dries Van Dijck - Weltmiro
 
Young riders - CDIO:
Kirsten Adriaenssens - Roycroft
Lisa Busschaert - Opus One
Carole Schepens - Velvet Dream
Jorinde Verwimp - Tiano
Reserve:  Laurence Roos - Fil Rouge
Photos © Astrid Appels - Rui Pedro Godinho -
Related Links
Young Rider Alexa Fairchild Wields the Axe of Power at the 2013 CDI Vidauban
Bundeschampion Defilee de Mode to Belgium
Arl, Verwimp, Waelkens, Devroe Win 2012 Belgian Dressage Championships
Belgian Team Selected for 2012 European Pony Championships
Jorinde Verwimp, Runner Up in 2012 Belgian Talent of the Year Competition