2013 World Championships for Young Dressage Horses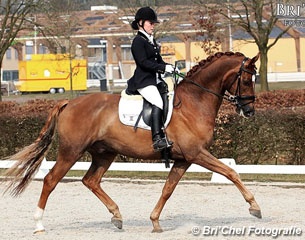 The Dutch observation and selection trials for team selection for the 2013 World Young Horse Championships continued on Friday 19 April 2013 with a third session at the KNHS head quarters in Ermelo, The Netherlans. Six horses were dropped from the long list.
"After the first three selection trials, the committee has got a good image of the potential of the different combinations," said the KWPN press officer. "The committee believes the quality of both groups is of a high level."
Thee next selection trial is on 18 June, which means that the youngsters do not need to be presented in May.
Six horses are no longer alllowed to come to the trials: Dagasus, Double Trouble Two, Devil Diamond N, Charleston B, Charisma and Cirano.
The following horses are allowed to appear at the fourth trial:
5-year olds
Dream Boy (Vivaldi x Ferro) - Gerdine Maree
Desperado (Vivaldi x Havidoff) -           Emmelie Scholtens
Dundee M (Lord Leatherdale x Sandro Hit) - Sharon Loeffen
Don Tango B (Contango x Jazz) - Diederik van Silfhout
Dancer (Vivaldi x Tango) - Kirsten Brouwer
Dark Pleasure (Ufo x Jazz) - Gerdine Maree
Dibert L (Vivaldi x Balzflug) - Stephanie Kooijman
Dorado (Krack C x Rousseau) - Emmelie Scholtens
Dolcevendy (Lord Leatherdale x Jazz) - Judith Ribbels
Dude (Vivaldi x Havidoff) – John Tijssen
Danci (Ziesto x Oscar )- Gerdine Maree
Don Juan de Hus (Jazz x Krack C) – Jessica Michel
Didando (Tuschinski x Jestset-D) – Vai Bruntink
Djack Johnson (Johnson x Roman Nature) – Mandy Dokter
Davina DVG (Johnson x Ulft) – Lisanne der Nederlanden
6-year olds
Capetown (Rubiquil x Democraat) - Thamar Zweistra
Charmeur (Florencio x Jazz) - Emmelie Scholtens
Chicago M.H. (Vivaldi x Montecristo) - Jonna Schelstraete
Casper (Westpoint x Goodtimes) - Hans Peter Minderhoud
Chardonnay (Winningmood x Flemmingh) - Vai Bruntink
Clarc (Dreamcatcher x Lord Sinclair) - Lars op 't Hoog
Charon (Rubiquil x Havidoff) - Thamar Zweistra
Cachet L (Jazz x Ferro) - Mirelle van Kemenade-Witlox
Coco Chanel (Sandreo x San Remo) - Patrick van der Meer
Capri Sonne jr (Rhodium x San Remo) – Dinja van Liere
Che de Jeu (Voice x Jazz) – Marieke van der Putten
Citho (Johnson x Florestan) –Emmelie Scholtens
Photo © Bri'Chel Fotografie
Related Link
Eurodressage Coverage of the 2013 World Young Horse Championships