American Dressage News
The United States Federation's Executive Committee has approved the recommendation of Robert Dover as the next U.S. Chef d' Equipe/ Technical Advisor for the U.S. Dressage Team pending the successful negotiation of a contract.
The 56-year old Wellington, FL based Dover will be negotiating his contract with with John Long, USEF CEO and James Wolf, USEF Executive Director of Sport Programs.
"I am honored to have been selected for the job of Technical Advisor/ Chef d'Equipe for the U.S. Dressage Team," Dover commented. "Earlier this evening, my friend, Michelle, who has worked at Gladstone for many years, told me that Fiona Baan, past Director of Dressage and one of the most influential people in America for our sport and me, personally, "would be very proud". I fully intend to do my very best to live up to the expectations of Fiona, Col. Bengt Ljungquist, and so many others who helped me so much in my career and put their faith in me."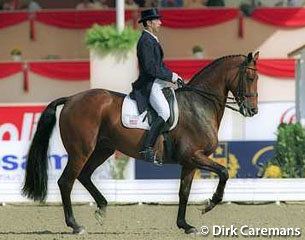 Dover is a veteran of six Olympics (1984, 1988, 1992, 1996, 2000 and 2004) winning team bronze medals in 1992, 1996, 2000 and 2004. He was also a World Championship team Bronze Medalist in 1994. After a brief retirement in 2003, Dover was lured back into the Olympic spotlight, when long time owner Jane Clark purchased FBW Kennedy, with whom he competed at the 2004 Olympics. In 1998 was a member of the World Equestrian Championship Team, riding Lennox where the team placed fourth in Rome, Italy. Dover officially retired as a competitive dressage rider in 2008. In 2010 he coached the Canadian dressage team to the 2010 World Equestrian Games.
The eloquent Dover is ecstatic to be selected as the new U.S. Dressage Team Technical Advisor, succeeding Anne Gribbons. "My desire is to work with the riders, their personal trainers, and our National Coaches, to create an incredibly strong pipeline - a true machine - from our juniors on ponies through our young riders and horses and developing combinations, up to our elite international athletes, so that Americans may stand atop the medal podiums around the world at all divisions," he stated.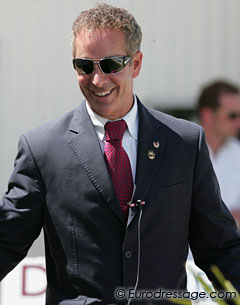 Dover believes that to achieve this goal it requires "great strategies, dedication, and hard work by all of us involved, but naturally, it is going to hinge greatly upon the funding necessary to train and field the finest teams of athletes, both 2 and 4-legged."
Dover aims to bring the world class programs to a new level. "World-class riders and horses training and competing at the very highest standards means world-class programs, starting with our kids. Our elite international riders know their jobs and while ensuring they have everything they need to excel with confidence, I can tell you from having been on and coached great teams, that is still the easy part. The game changer will be making sure we have superbly trained and prepared riders and horses, constantly coming up through the pipeline in greater numbers every year. Only then will we see an "American Machine" which will outlast all of us individually and continue indefinitely into the future, the Solid Gold future we dream of!"
Photo © Astrid Appels - Dirk Caremans
Related Links
Dover and Van der Schaft in the Running for U.S. Chef d'Equipe Position
Robert Dover Promoting Change for His Sport and His Country
Robert Dover: The Good and the Bad of the 2012 Olympic Games
Robert Dover: The FEI vs The Riders...Really?
Robert Dover Rehired as Interim Dressage Canada Technical Coach/Advisor
Robert Dover No Longer Canadian Dressage Team Technical Coach