Canadian Dressage News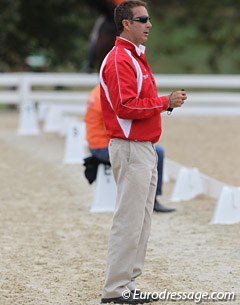 Dressage Canada is pleased to announce the rehiring of Robert Dover as Technical Coach/Advisor on an interim basis, for the period of January 1 — April 1, 2011.
"Its amazing!!" said Ashley Holzer, who with Pop Art was the highest place team member at the Alltech FEI World Equestrian Games. "Only bad this is that it is interim. Maybe we can change that too!!!" 
Robert Dover's prior contract with Dressage Canada expired October 15, 2010. During his tenure and under his guidance, the Canadian Dressage Team achieved its highest placing at a world championships (seventh at the 2010 World Equestrian Games), and earned a bronze medal in the Nations Cup at CDIO5* Rotterdam.
"I am committed 100% between now and April to helping our Canadian riders and horses achieve the greatest results as we head toward the Pan American Games and the London Olympics," said Dover.
While Dressage Canada has recently posted a search for a new Technical Leader, it is imperative that our high performance athletes receive the additional support they need during this Pan-American Games year and leading up to the 2012 London Olympics. Should a new Technical Leader be found during the period of this temporary contract, Dover will assist in the transition until April 1, 2011.
Dressage Canada wishes to acknowledge and thank the Government of Canada's Own the Podium program, which has provided funding for Dover's interim contract.
Source: Dressagedaily.com
Photo © Astrid Appels
Related Links
Dressage Canada Launches Search for Technical Leader
Robert Dover No Longer Canadian Dressage Team Technical Coach
Robert Dover Appointed Canada's Team Coach/Advisor