2013 World Cup Finals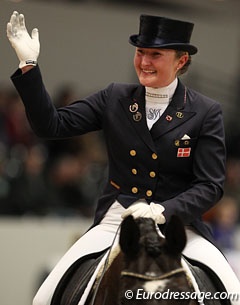 Danish Sidsel Johansen has received a wild card to compete at the 2013 World Cup Finals. This news was announced yesterday at the same time that Australian representative Lyndal Oatley was forced to withdraw. Her spot will be taken by Marlies van Baalen
The FEI awards two wild cards to the highest scoring World Cup ranked riders, which did not make it to the Finals. Yesterday Swedish Minna Telde got the news that she got a spot to compete at the Finals, held in Gotenburg, Sweden on 24 - 28 April 2013. Today crowd favourite Sidsel Johansen became the second recipient.
"Yippie, I'm told that Schianto gets a wild card. I'm just mega proud," said a jubilating Johansen.
Unfortunately Lyndal Oatley, who would be representing the Pacific League, had to withdraw due to a minor injury her horse Sandro Boy has sustained.
"He has a strain from slipping coming out of the arena," Oatley told Eurodressage. "Nothing worse than that, but needs the time to heal perfectly without the pressure of a competition in the near future. Would have loved to go, but this is the only decision in my mind."
Lyndal's spot will be allocated to Dutch Marlies van Baalen with her Westfalian gelding Miciano (by Medici).
"Yes. I just got the phone call form the Dutch Equestrian Federation. I can go to the World Cup Finals. Together with Edward Gal and Adelinde of course I'll be representing The Netherlands. It's a big honour," van Baalen commented.
Photo © Astrid Appels
Related Links
Eurodressage Coverage of the 2013 World Cup circuit
Minna Telde Receives Wild Card for 2013 World Cup Finals
Lyndal Oatley To Represent Pacific League at 2013 World Cup Finals
The Crowd on Sidsel's Side at 2012 CDI-W Stuttgart