2013 CDI West Palm Beach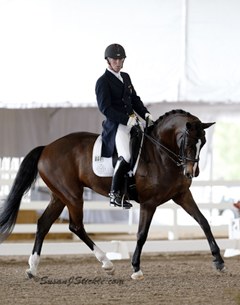 Entering the arena with the "right amount of energy", and the "right amount of warm-up" on board an Egyptian queen, nothing could stand in the way of American Grand Prix rider George Williams winning the Prix St Georges at the 2013 CDI West Palm Beach on 9 - 11 February 2013.
"Cleopatra was right there with me. She is still new to this level, so I was quite happy with her willingness to work together with me. She is always a fun horse to ride," George told Eurodressage. "As you bring a horse along you have small goals for each test and Kathy Connelly and I had talked about my goals for this weekend. I was happy for I felt we had achieved those goals!"
With a 67.711% test, George took out the Prix St Georges at the 2013 CDI West Palm Beach and feels that the win confirmed how he had been feeling the horse during training. "We're working on the consistency, improving the cadence in the trot and building her overall strength. We had a good warm up and it seemed the stars lined up for us for Cleo was stronger in those areas," George explained. "I have to say when you go down the centerline and the stars line up and it all works out - then you have a really good day!"
Now aged 57 George was born in New Hampshire, the youngest of 9 children, who became fascinated with his father's profession. "Both his parents were sculpters," says George's wife Roberta. "He often watched his father turn a piece of clay into something amazing and that is what also sparked George's interest in dressage. His father died when George was 13. One day, while George was watching a friend take a dressage lesson, he had the same feeling that he had when he watched his father sculpt the clay. The horse transformed and at that moment George knew he wanted to pursue dressage."
Then introduced to dressage by the local farrier, George rode at  Egon Von Neindorf's in Karlsruhe, Germany, at 18,  right after finishing High School. Earning much fame for his career on Chuck and Joanne Smith's Westfalian mare Rocher, George owes much of his dressage life to this 2003 U.S. Dressage Federation Grand Prix Horse of the Year. "There were so many wonderful moments with Rocher. It is difficult to single out just one," Williams admitted. "Rocher was an extraordinary horse who captured the hearts of many who saw her - both here in the US and overseas. She had quite a fan club who followed her. She definitely captured my heart, as well."
Influenced most primarily by trainers such as Von Neindorf, Karl Mikolka (who was a Chief Rider at the Spanish Riding School), and Klaus Balkenhol, George is now head trainer at Betsy Juliano's Havensafe Farms in Ohio and Florida.  "Kathy Connelly is now my eyes on the ground and pushes me to be better and better," he said.
Fortunate that Betsy allows him to take his time with the horses, George loves to develop each horse at a rate that is appropriate for them, in order to establish trust and harmony with their rider. "Every horse is different. For example, Cleopatra's ears are not nearly so long as Rocher's," George joked.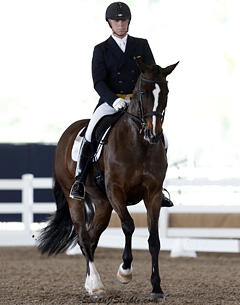 Purchased at the 2007 PSI Auction by Betsy Juliano, Cleopatra is by Diamond Hit out of a Canaster dam. George believes that if Cleopatra were human she would be perfect, so he is not quite sure which person he could name that would match up. "Not only is Cleo a very talented and athletic horse, but she has a wonderful mind. She is a very kind, trusting and generous soul. It is partly because of this reason I think it is particularly important for me to take my time and do it right," he said.
Unwilling to make predications about a horse's future, George says that every horse has one and it is up to the rider and trainer to make certain they are headed in the right direction. "I am fortunate to be riding two other of Betsy's horses: Horizon - a coming 6 year old Hotline mare, who was the Reserve 4-year old Champion at the USEF National Young Horse Championships, and Riccidoff, a 7-year old Riccione son, who I am preparing for Betsy when the time comes."
Happy to work at Havensafe Farm, George started teaching owner Betsy Juliano in 2007 and has been helping her with her wonderful horses on a monthly basis and during the Florida season, ever since.  "In 2009 I began riding full time for Betsy. I also continue with Willliams Dressage which is a private training business with my wife Roberta and my daughter Noel," he explained.
Out on the horses from sun up to sun down, George is also president of the USDF, chair of the USEF Eligible Athletes, and he sits on the USEF Dressage Committee and the USEF High Performance Committee, all of which are volunteer positions for which he does not receive pay.
Ending his last sponsorship deal at the end of Rocher's career, George says that after Rocher the Smiths wanted to focus their energy on their farm and their own riding. "As you know sponsoring horses on an international level is a major emotional and financial commitment," George acknowledged.
Set to continue competing Cleo in the small tour for the next few months, George hopes to  move her up to Grand Prix during 2013. "She's working well at the Grand Prix movements and when the time is right I'll start to show her," he concluded. "But, with horses, it's always one day at a time, and I'm enjoying bringing her along and seeing where it takes us."
by Sarah Warne for Eurodressage
Photos © Sue Stickle
Related Links
Scores: 2013 CDI West Palm Beach
Fine Time, Price Highlight of the 2007 PSI Auction
Rocher Retired, George Williams Leaves Gypsy Woods Farms
George Williams Elected President of the U.S. Dressage Federation
USEF Seats New Dressage High Performance and Eligible Athlete Committee