Dutch Dressage News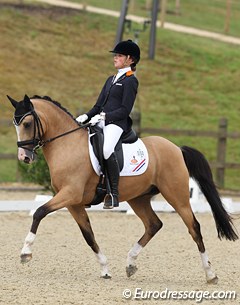 Dutch pony, junior and young riders' team trainer Tineke Bartels announced that pony rider Febe van Zwambagt has now qualified her second pony Coco Jambo for the Dutch Pony A-team based on her good, recent results.
Internationally van Zwambagt has been performing strongly in Leudelange and Biarritz in the autumn of 2012, but this winter both her ponies Dr. Watson and Coco Jambo, have been showing well in the KNHS FEI Pony Cup competitions.
Van Zwambagt's ponies are in shared ownership with German pony stallion station Ferienhof Stucker. Coco Jambo (by Champion de Luxe x Dressman I) and Dr. Watson (by Don't Worry x Barkay Aremis) were previously trained and competed by Kira Ellmann in Germany.
The Dutch Pony A-team now includes four pony riders, who have all been able to qualify two ponies onto the A-team. They will be considered for team representation at the 2013 European Pony Championships in Arezzo, Italy, in July.
The Dutch Pony teams now include:
A-team:
Demy Kurstjens - Ciske van de Beekerheide, Nina van de Beekerheide
Jelle Peeters - Nandor, Den Ostriks Dailan
Lisanne Zoutendijk - Amaretto, Champ of Class
Febe van Zwambagt - Coco Jambo, Dr Watson
B-team:
Zoe de Booij  - Voltage
Kaylee Gouda  - Don Camillo du Bois
Shanna Lust   - Anjerhof's Pablo    
Floor van Manen  - Divano du Bois
Bo Oudhof   - Day of la Divinia
Joelle Peters - Geronimo B
Gyvano Schouws  - Bugatti
Photo © Astrid Appels
Related Links
Van Zwambagt In Front at Second Leg 2012-2013 KNHS FEI Pony Cup in Assen
Van Zwambagt and Dr. Watson Take First Leg of 2012-2013 KNHS FEI Pony Cup
Van Zwambagt and Dr. Watson Win 2012 Dutch Outdoor Pony Championships