Trakehner Breeding News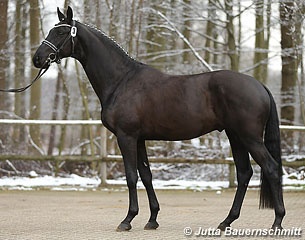 The German Trakehner Verband held its annual Spring Approvals and Stallion Show in Münster-Handorf on a cold winter Saturday, 9 February 2013. Two young colts received a positive verdict of the Stallion Licensing Committee, but it was the already licensed stallions in the show that were actually able to make an impression that day.
Two out of the five presented stallions were approved: Grimani (by E.H. Gribaldi o/o Gioia by E.H. Monteverdi TSF) is bred by Konrad Ranzinger, France and presented by Gestüt Heinen-Issum. He was born in 2010 and is not yet performance tested. The stallion reminds strongly of his sire, was a good mover with elasticity and an active hind end, but could have shown a more correct foundation. That is also true of the other approved stallion, Sir Easy, a son of Easy Game (also by E.H. Gribaldi) out of Sommernacht IV by E.H. Tuareg. Sir Easy is bred by Heinrich Röttger from Lübeck and is owned by Reinhard Nagel from Munich. Notably, both stallions have pedigrees with international dressage horses as sire in their first two generations, so expectations for a successful performance career are high. In case of Sir Easy, the first step is already done as – born in 2008 – he already has passed a good 70-day test in Germany. It remains to be seen how a stallion standing 176 cm height with orthopedic shoes in front will hold up. However, his under saddle presentation was quite promising, as this stallion showed good balance and self-carriage and reminds much of his sire in his younger days.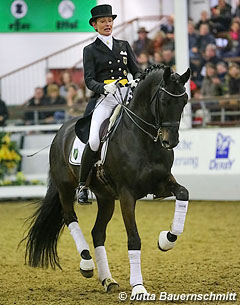 The stallion show usually attracts a large crowd and 2013 was no different. Some 40 stallions were shown in hand, free jumping, or under saddle, including some of the most recently approved (not yet 3-year old) youngsters of the 2012 approval crop. To start with an oldie but goodie: it was great to see E.H. King Arthur TSF (by E.H. Buddenbrock x E.H. Consul) again. The stallion had a successful FEI career at Grand Prix level and is the proclaimed "personal" and most favorite mount of Trakehner Verband president Petra Wilm. She also presented her King Arthur in Handorf, always with a big smile on her face, obviously enjoying her stallion to the fullest. This is especially noteworthy since Mrs. Wilm has been battling a tough disease for some time and King Arthur seldom looked better than this weekend. Truly an inspiring sight!
A few general observations: It becomes increasingly difficult to distinguish the stallions based on the fact that almost all of them are bay, dark bay or black. In fact, not a single grey Trakehner showed up and only four purebred Trakehner chestnuts were shown: The 2012 NMS Champion Donauruf (by E.H. Herzruf x Exorbitant xx) made a very short in hand appearance. Also "in red" were the young Glücksruf (by Dramatiker x Opernball), the former NMS Champion and FEI dressage stallion Le Rouge (by Pret a Porter x Tycoon) and the international Grand Prix show jumper Der Dürer TSF (by Waitaki x Trafaret). Jump and chestnut seem to go in hand: Glücksruf was the best jumper of his approval crop in 2011, yet also won the highest dressage index of all approved, 30-day tested Trakehner stallions in 2012. Der Dürer TSF, as always ridden by Michael Jung, just played with the jumps with incredible lightness and obvious fun at the job. The other "color spots" in the collection were the Marbach-based international eventer Icare d'Olymp AA and the grey Said ox as well as the Pinto show jumper Semper LT. Considering that some of the breed's most noteworthy sport horse sires originally came from the chestnut or mixed herds, this is nothing but a troublesome development.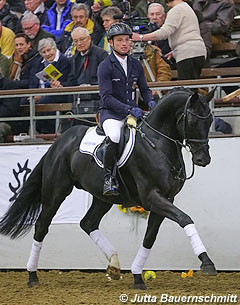 It is also interesting to observe the generally high quality walks in this group of stallions. They may have less drama in their basic paces than other breeds (looking at the KWPN and Oldenburg especially), but the general quality of all three (!) basic gaits is at a high standard. A relaxed walk could be seen in almost every stallion this weekend, which also tells a lot about their inner qualities. And lastly when it comes to mechanics and modern pezzazz, it was obvious that two "jumpers" stole the show: the young Polish-bred Avatar (by Ajbek x Agar), the best jumper of the 2012 licensing in Neumunster and Der Dante (by Stravinsky xx x E.H. Hohenstein), who qualified for the Bundeschampionate for the German Eventing Horse with Michael Jung last year, had a lot of the movement one would like to see from the fleet of dressage horses in this ring. The canter in the breed lacked uphill tendency and a good round front arm for many years, but more and more young stallions appear that show what can be bred into a closed studbook by careful selection. Fairmont Hill (by Singolo x E.H. Cadeau) and the not yet 3-year old San Silviano (by E.H. Polarion x E.H. Biotop) served as good examples, despite the fact that both yet have to master their balance and confidence. Interestingly, San Silviano's dam is also dam of Fairmont Hill's sire and it brings in Dr. Reiner Klimke's last big international horse, the Russian Trakehner Biotop.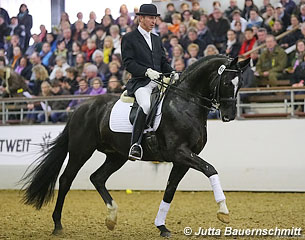 Several stallions have been coming back to Handorf for many years now and it is always interesting to observe their progress (or not). Better than in recent years was Elfado (by Kostolany x Roncalli xx), impressively presented by Juliane Brunkhorst. Maybe it is a combination for the future? Already well on his way to upper level work is coming 8-year old Singolo (by Oliver Twist x E.H. Biotop), who was presented by Harald Cornelissen. The stallion demonstrated excellent ability to sit and collect with natural cadence, overshadowed slightly by his tightly held tail, but his demonstration was convincing and can only be seen as a step in the right direction. Dorothee Schneider presented Amadelio (by E.H. Lehndorffs x Lauries Crusador xx) in her usual forward, light fashion and let the stallion show off at his best. The pair already tackled the Bundeschampionate in previous years and will likely stay together for a while. The stallion has the quality and inner work ethic to go all the way and his progression under saddle has certainly been very positive.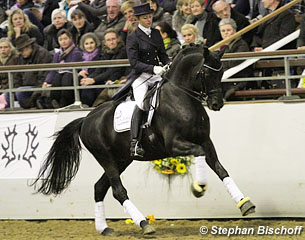 Nicole Raili presented her "new" mount in the barn, E.H. Hibiskus (by E.H. Latimer x E.H. Hohenstein). The stallion began his career with Ingrid Klimke, but that was of short duration. Sadly locked up in the later dissolved Gestüt Sommerlade, Hibiskus had a rather tough start into his life as a riding horse (in fact, it's safe to say that he probably wasn't ridden or properly turned out for years). After Sommerlade, he found a new and loving home at Gestüt Wiesenhof, where his career came back on track. Always a bit hyperactive, the stallion found a new rhythm at Wiesenhof and with his recent and probably last sale to the Raili family in Bavaria, has finally met "his" rider. Erin rides one of Hibiskus' sons very successfully in the small tour and is now onboard of the sire. Hibiskus was probably never seen as good as this Saturday! The stallion has tremendous shoulder freedom but always struggled with tracking up from behind. Even that seems to have gotten better.
Last but not least, the black Windsor (by Ovaro x Schiffon) left a rather good impression as a future high quality dressage mount. Again, the first three generations of sires in his pedigree all competed at least at S-level or higher and this black charmer oozes rideability and quality out of every pore.
The show concluded with the usual big finale and sent the visitors home with mostly good impressions of a quality group of stallions. While the Verband seems to be set on producing dark, modern dressage horses, this particular registry should not forget where its roots truly lie: it is illusionary to attempt a direct competition with breeds that have long given up on the versatile, all around sport horse and focus on extreme movement for the modern markets. With a stud book the size of the Trakehner (no more than 1,000 foals born every year), an attempt to split up "jumpers" from "dressage" horses is probably futile. The fact that the jumper stallions at this show moved at least as good if not better than their dressage counterparts speaks volumes. Let's hope breeders will remember this when the new matings are planned for 2013!
Photos © Stephan Bischoff - Jutta Bauernschmitt
Text ©  by Stephan Bischoff and Global Sporthorses © Eurodressage
Related Links
Donauruf, Champion of the 2012 Trakehner Stallion Licensing
High Class Rides at 2012 International Trakehner Championships in Hanover
Herzrouge and Cote d'Azur Shine at 2012 Trakehner Mare and Dressage Championship