KWPN Breeding News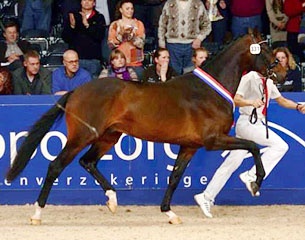 The dark bay Dutch warmblood stallion Fierce S (by Ampere x Ferro - now named Franklin) has been proclaimed champion of the 2013 KWPN Stallion Licensing in 's Hertogenbosch, The Netherlands, on Saturday 2 February 2013. Seven colts were invited to participate in the champion's ring, which Fierce S headed.
The brand new champion is bred by live stock dealer Musterd and owned by Dutch horse dealer Nico Witte and Leida Collins-Strijk. The chair of the licensing committee, Wim Ernes, praised the colt for its type and movement. "He shows much technique in movement, has a lot of expression and suppleness and combines that with a good ability to collect and extend," Ernes commented.
Fecco (by Johnson x Florencio) was named reserve champion). Bred by A. Flierman and owned by Team Nijhof, this colt stood out for his relaxed way of moving and quality gaits.
The third ranked stallion was For You Two (by Bordeaux x Ferro), bred by G. van Esterik and owned by Joop van Uytert. 
A total of seven stallions were ranked from top one to seven in the champion's ring. Number four was the nameless colt by Ampere x Jazz, followed by Foundation (by Amazing Star x Jazz), Filemond AK (by Apache x Welt Hit II) and Flinstone B (by Vivaldi x Ferro).
The following dressage colts passed the third phase and are invited to participate in the mandatory stallion performance testing in order to become a licensed breeding stallion with the KWPN society:
Fierce-S  (by Ampère  x Ferro) - CHAMPION
Fecco   (by Johnson  x Florencio) - premium nr. 2
For You Two (by Bordeaux x Ferro) - premium nr. 3
nameless (by Ampère x Jazz) - premium nr. 4
Foundation  (by Amazing Star  x Jazz ) - premium nr. 5
Filemon A.K. (by Apache x Welt Hit II) - premium nr. 6
Flinstone B  (by Vivaldi x Ferro) - premium nr. 7
Flambeau  (by Ampère x Zeoliet) 
Floret (by Ampère x Rubinstein I) 
Fhillipo (by Armani  x Florencio) 
Flirtatious  (by Armani  x San Remo)
Megs Invictus (by Zack x Romanov )
Ferrari  (by Contango  x OO Seven)
Fleetwood Mac CL   (by Gribaldi  x Havidoff )
For Gribaldi (by Gribaldi  x Michelangelo) 
Fairytale (by Lord Leatherdale x Negro)
Filithyio (by Lord Leatherdale x Negro )
Faust  (by Negro x Don Schufro)
Foreigner (by Rock Forever x Scandic)
Farsto  (by Scandic  x Jazz)
Fine and Smart (by Sorento x Jazz )
Forty   (by UB 40 x Contango)
Ferdinand (by United x Jazz)
Ferrari (by Uphill x San Remo )
Fennovanck PP (by Uphill  x Münchhausen )
Ferdinand (by Vivaldi x Havidoff) 
Fellini (by Wynton x Ferro) 
Famous Star (by Wynton x Krack C)
Fontainebleau (by Ziësto  x Ferro)
Photo courtesy kwpn.nl
Related Links
Forty Dressage Colts Picked for Third Phase of 2013 KWPN Stallion Licensing
Desperado, Charmeur, Bordeaux Win 2012-2013 KWPN Stallion Competition Finals