KWPN Breeding News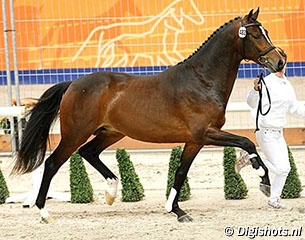 Forty 3-year old dressage colts have been picked to move on to the third phase at the 2013 KWPN Stallion Licensing held this week in the Brabanthallen in 's Hertogenbosch, The Netherlands.
After two days of assessing the jumper colts, the dressage division appeared today in front of the KWPN Licensing Committee, which includes Wim Ernes, Marian Dorrestein and Reijer van Woudenberg. Forty colts are allowed to re-appear tomorrow in the third phase, during which the stallions for the champion ring are selected.
The offspring by KWPN licensing champions Ampere (by Rousseau x Flemmingh) and Bordeaux (by United x Gribaldi) stood out.
"We are very pleased and have high expectations for tomorrow," said licensing committee chair Wim Ernes. "We saw a lot of quality today, especially the offspring by Ampere, Bordeaux, UB40, Gribaldi and Jazz impressed. We hope that these stallions will show themselves positively again tomorrow. It is possible that this year we'll invite a large number of colts to the champion's ring. The top seems very broad and that's a big step forward. Besides that we are very pleased with the offspring of the young stallions, which seems that we are making progress genetically."
The colts selected for the third phase are:
Foundation (by Amazing Star x Jazz)
Fierce-S (by Ampère x Ferro)
Flambeau (by Ampère x Zeoliet)
nameless (by Ampère x Jazz) 
Floret (by Ampère x Rubinstein I) 
Flambeau (by Apache  x Hitchcock) 
Filemon A.K. (by Apache x Welt Hit II) 
Fresco (by Apache x Metall) 
Fhillipo (by Armani x Florencio)
Flirtatious (by Armani x San Remo)
Megs Invictus (by Zack  x Romanov)
Fabregaz (by Bordeaux  x Democraat)
For You Two (by Bordeaux x Ferro) 
Fame (by Bordeaux x Rhodium)
Falcon (by Bordeaux  x Johnson)
Ferrari (by Contango  x OO Seven) 
Francesco  (by Florencio x Krack C) 
Fleetwood Mac CL  (by Gribaldi  x Havidoff) 
For Gribaldi (by Gribaldi  x Michelangelo)
First Choice (by Jazz x Negro) 
Forlan  (by Jazz  x Highline)
Fecco (by Johnson x Florencio)
Fairytale  (by Lord Leatherdale x Negro) 
Filithyio (by Lord Leatherdale x Negro) 
Faust (by Negro  x Don Schufr)o 
Ferrero (by Rhodium x Olivi) 
Foreigner (by Rock Forever  x Scandic)
Farsto (by Scandic  x Jazz)
Fine and Smart (by Sorento  x Jazz)
Forty  (by UB 40 x Contango)
Ferdinand (by United  x Jazz)
Ferrari  (by Uphill  x San Remo) 
Fennovanck PP   (by Uphill  x Münchhausen)
Ferdinand (by Vivaldi  x Havidoff )
Feragamo (by Vivaldi x Democraat )
Flinstone B (by Vivaldi  x Ferro )
Fifty Fifty (by Vivaldi x Gribaldi )
Fellini (by Wynton x Ferro )
Famous Star (by Wynton x Krack C) 
Fontainebleau (by Ziësto  x Ferro)
Photo © Leanjo de Koster
Related Links
No Dressage Colts Accepted at Late Inspection for 2013 KWPN Stallion Licensing
Twenty-Eight Colts Accepted at 2013 KWPN Stallion Licensing Pre-Selection
Twenty-Six Colts Accepted on Second Dressage Day at 2013 KWPN Stallion Licensing Pre-Selection
Twenty-Seven Colts Picked on Third Dressage Day at 2013 KWPN Stallion Licensing Pre-Selection
Vivaldi Best Represented Sire at 2013 KWPN Stallion Licensing Pre-Selection Days