2013 CDN Munster - K+K Cup
Each year the annual national indoor competition in Munster attracts a large crowd and numerous German top riders who are taking advantage of the opportunity to debut their new horses or move their more experienced horses up the levels. Nadine Capellmann and her equine partner of two years, Girasol, achieved new heights in the classical Grand Prix tour, while Ingrid Klimke and Dresden Mann made a winning debut at Grand Prix level.
The 47-year old Capellmann and her Baden Wurttemberger bred mare Girasol (by Gribaldi x Landioso) found their stride and showed great form in the Grand Prix and Special, winning both classes with strong scores. The combination received a winning 74.979% for their Grand Prix and also took home the trophy in the Special with a 75.958% earning test, twice placing well ahead of all competition. Capellmann wowed everyone with her horse which truly shone in the passage and piaffe work. Girasol was notably more uphill than before, and Nadine was really able to collect her and make her carry herself to the utmost, even in the much more difficult arena in which the Special was ridden on Sunday.
Nadine also showed a very good eye to spot talent when she discovered Dark Dynamic last spring in Lingen and bought the horse virtually on the spot. It was their first indoor show and his first Grand Prix. Even though the black had a big mistake in the flying changes, he looked like he could stay in one spot and piaffe forever. With some more experience, this horse might be a star for the future.
"Now we are finally there," said an ecstatic Capellmann after her double whammy on Girasol. "She has the power and self consciousness to carry herself and she stays with me in the test, even when she becomes a bit hectic. The rides in Munster were truly so much fun and I'm ecstatic that the patient work has finally paid off."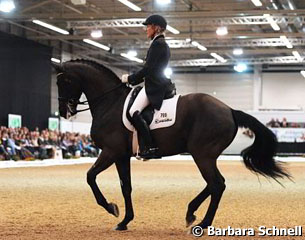 German Olympic eventing rider Ingrid Klimke proved her worth as a dressage rider and made a successful Grand Prix debut aboard Mrs Wallace's 9-year old Westfalian gelding Dresden Mann (by Dresemann). The pair shone with very solid passage work and good piaffes. The combination, which has trained together for the past 4,5 years, aced the short Grand Prix with 71.163% and dominated the Kur to Music with 78.05%. The duo was a league of her own with their fellow participants following in a distance. 
"Alfi secured the short Grand Prix and added another victory on Sunday in the freestyle," Klimke commented. "Our debut at Grand Prix: two starts, two wins. I'm overwhelmed and simply happy."
Münster is always a place where riders try out new horses at the beginning od the season, or ride their first Grand Prix. Isabell Werth's stable rider Matthias Bouten did a nice job with the very green Söhnlein Brilliant. Nathalie zu Sayn-Wittgenstein showed two youngsters that still need her patience, likewise Anabel Balkenhol, and Ingrid Klimke did an impressive job with both Dresden Mann and Liostro.
"All riders had to perform under the scrutiny of a German TV team that was out to find people who had their horses' noses behind the vertical, without bothering to look at the whole picture or wondering what the riders may have been doing with those -- often young, inexperienced and spooky-- horses," Eurodressage in-house photographer Barbara Schnell explained. "This hysteria of the righteous and clueless was certainly well-meant, but it left a very bad aftertaste. Here's hoping for a year with interesting sport and knowledgeable discourse!"
Photos © Barbara Schnell - Selene Scarsi
Related Links
Scores 2013 CDN Munster
Nadine Capellmann is a Mom
Girasol Sold to Nadine Capellmann
Photo Report: Werth and Kittel In Front at the 2012 CDN Munster