2013 VSN Trophy Finals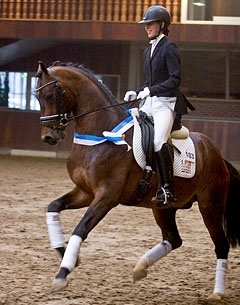 The dark bay stallion Atomic (by Ampere x Tolando) became the winner of the 2013 VSN Trophy Finals for 3-year old dressage horses held at Equestrian Centre De Nieuwe Heuvel in Lunteren, The Netherlands, on Saturday 5 January 2012. Thirty-one horses competed in the finals and the five highest scoring horses were test ridden by guest judge rider Emmelie Scholtens.
The non-licensed Dutch warmblood stallion Atomic, originally named Empire, is bred by N. Kiep and owned by Eugene Reesink and Joop van Uytert. Judges Emmelie Scholtens and Laurens van Lieren scored the stallion 7 for walk, 9.5 for trot, 9 for canter, 8 for rideability and 8.8 for general impression. Guest judge rider Scholtens gave the stallion a 9.5 for rideability. With a total of 51.8 points Atomic claimed the 2013 VSN Trophy.
"He is quick and a bit sensible and even though he's still green he can easily collect and extend," Scholtens explained. "In trot he still misses a bit of balance when collecting and the walk is not his best gait but that will improve in the future. He's a really nice horse to sit on."
The runner-up was KWPN bred stallion Lumen Express (by Vivaldi x Sir Sinclair). Bred by G Andeweg and owned by the Regterschot family, Lumen Express scored 8.5 for walk, 9 for trot, 8.5 for canter, 8 for rideability and 8.2 for general impression. He got a 9.0 for rider Scholtens.
"He has much balance but I miss a bit of go," Scholtens commented. "He has three good gaits but I noticed a small difference between the left and right canter."
The dark bay mare Etosha (by Gribaldi x Kennedy) finished third overall. Bred by R. Ruiterkamp and owned by Stable Perlee, Estosha got 8.5 for walk, 8 for trot, canter, rideability and 8.2 for general impression. Scholtens scored the horse 8.5 under saddle.
"This mare has such a great walk. She was a bit tense at the start but became really good quickly and has a very nice canter."
Photo © Sjoert Pegge
Results - 2013 VSN Trophy Finals
1. Atomic (by Ampere)  51.8 points
2. Lumen Express (by Vivaldi) - 50.2
3. Etosha (by Gribaldi) - 49.2
4. Emable van Kairos (by Uphill) - 48.4
5. Quater Gold (by Quaterback) - 48.3
6. Elton John CL (by Johnson) - 39.2
7. Esprit (by Johnson) - 38.8
7. Edson (by Johnson) - 38.8
9. Edmar (by Jazz) - 38.6
10. Endyrava (by Lord Leatherdale) - 38.3
11. Elpacina (by Vivaldi) - 38.1
11. Endy Rava (by Don Jovi) - 38.1
13. Expert ACB (by Vic) - 37.5
13. Erinko Weering (by Wonderboy) - 37.5
15. Esprit Geuzenhof (by Jazz) - 37.4
16. Elton John (by Jazz) - 37.2
17. Elvis (by Rock Forever) - 36.9
18. Evita (by Wynton) - 36.8
19. Elvis (by Apache) - 36.7
19. Eyewitness (by Rock Forever) - 36.7
21. Eye Catcher (by Sorento) - 36.6
21. Emit (by Jazz) - 36.6
23. Elco (by Vivaldi) - 36.4
23. Elroy (by Johnson) - 36.4
25. Espresso W (by Johnson) - 36.2
26. Edison (by Oscar) - 36.1
27. Remmits Emporio (by Armani) - 35.2
28. Everest (by Jazz) - 35.0
29. Eudoxia Utopia (by Spielberg) - 34.8
30. Eminent de Jeu (by Armani) - 34.3
31. Eyecatcher (by Zanzibar) - 32.8
Related Links
TC Dolly Wins 2012 VSN Trophy Finals
TC Celanique Wins 2011 VSN Trophy
Chinook Wins 2010 VWF Dressage Cup for 3-year olds
Bretton Woods, Winner of the 2010 VSN Trophy Finals
Annerijke Wins 2009 VSN Trophy
Zaragoza Wins 2008 VSN Trophy