Danish Warmblood Breeding News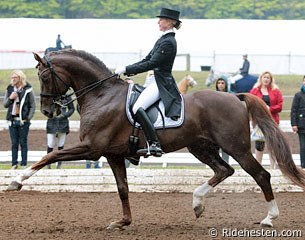 The 8-year-old Danish Warmblood stallion Skovens Rafael is proving himself not only as a future Grand Prix horse but also as a valuable sire of high quality youngsters. This remarkable young sire has turned into a great success story putting his stamp on the youngster scene. At the 2012 Danish Young Dressage Horse Championships three 4-year-olds out of his first crop placed in the top ten.
Auction Highlight

The liver chestnut colt by Blue Hors Romanov x Blue Hors Don Schufro (bred by Kirsten B. Hansen and Jens Lund Pedersen) was first discovered as a foal and was purchased at the Danish Warmblood Elite Foal Auction by stallion station Blue Hors on behalf of a foreign investor. Skovens Rafael was raised at Blue Hors and as a 2½-year-old he got selected for the Danish Stallion Licensing in Herning, where he became a premium stallion.
There he was discovered by Per Skjærbæk, a professional trainer and horse dealer who was happy to see that the promising 3-year-old stallion was offered for sale in the Spring Auction lot in Herning. He was looking for a talented youngster for his wife, dressage rider Lotte Skjærbæk, and the couple decided to bid on the horse together with co-investor Lotte Lindgreen. They were not the only ones who could barely get their eyes off the gorgeous dressage prospect and Skovens Rafael became the price highlight at the auction breaking the 1 million DKK marker (134,000 euro).
Invincible 4-year-old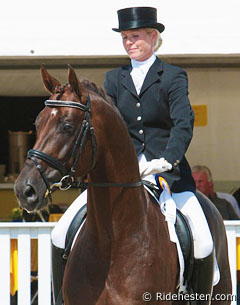 The young stallion passed his 35-day performance test with flying colours and got fully licensed as the best Danish bred 4-year-old dressage stallion. He went on to get approved for breeding for the Swedish Warmblood society. Lotte Skjærbæk and Skovens Rafael were invincible throughout the 2008 show season and the icing on the cake was their victory in the Danish Dressage Championship for 4-year-olds with a total score of 9.10 ahead of top horses like Blue Hors Zack and UNO Donna Unique.
At the age of five Skovens Rafael continued his string of victories by winning the dressage stallion class in Herning scoring several times 10 and 9.5. At the qualifier for the Danish Dressage Championships he and Lotte booked a record breaking score of 97%!
2 x Verden Group Winner and Finalist

Skovens Rafael is out of one of the best crops of dressage foals that Danish breeding has ever seen. As a 5-as well as a 6-year-old he was selected to represent Denmark at the FEI/WBFSH World Championships for young dressage horses in Verden, Germany, part of a very strong team of Danish horses including world champions Hønnerups Driver and UNO Don Unique. Rafael and Lotte became group winners at their first start in Verden and scored the highest mark for rideability and canter in the qualifier for 5-year-olds. In the final they finished 7th.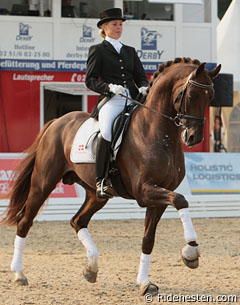 The following year the pair once again became group winner and eventually placed 8th in the final. At the age of six Rafael had an accident in which he injured himself. This often caused his testicles to swell and at the World Championships in Verden that year his team struggled to keep him happy and to cool him down with cold water to prevent any swelling before his performance. It has taken a long time for him to recover after the accident and in the meantime Lotte Skjærbæk also had to deal with personal health issues.
In the spring of 2012 the two were back in top shape and they appeared as an exciting new pair moving up to small tour level. Throughout the show season they not only managed to impress the judges and crowds, but also improve their level. At the 2012 CDI-W Odense in October Lotte Skjærbæk and Skovens Rafael made their international debut in the small tour. Scoring 71.947% they became runner-up in the Prix St. Georges and took third place in Intermediaire I with 69.263%. At the very same show the first crop of 4-year-olds by Skovens Rafael competed in the finals of the 2012 Danish Young Dressage Horse Championships.
Few Coverings and a Poor Foal Report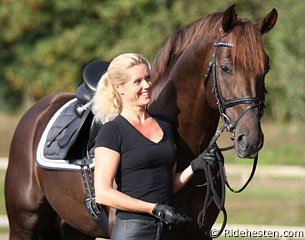 Skovens Rafael was not one of the most attractive foals of his year in Denmark at the time, but he was obviously very functional. Owner Per Skjærbæk was disappointed when the breeders expected Rafael's foals to be world class types. They were not that special and the stallion got a somewhat poor foal report. However, bearing in mind how Rafael himself has developed, Per Skjærbæk believed in his offspring and decided to buy a lot of them.
Despite his international success as a young sport horse Skovens Rafael did not cover many mares. The bloodlines of his sire and dam sire were widespread in Danish breeding and the quest for something new and different was on. As a 3-year-old premium stallion he did not even make it into the top 25 of the most used stallions in Denmark but after his second breeding season he moved up to rank 15.
Every year Per Skjærbæk buys a number of promising foals out of the best European bloodlines. He has always trusted Skovens Rafael to become an influential sire and owns around 15 young horses by the promising young sire. He keeps them for training as he believes they will make outstanding dressage horses.
Skovens Rafael Dominates as a Sire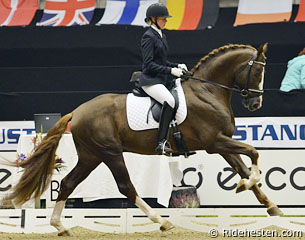 Only 31 foals from his first crop born in 2008 are registered in Denmark. Nevertheless, he managed to dominate the 2012 Danish Dressage Championship for 4-year-olds as the sire with most offspring in the final. His get placed 3rd, 4th and 8th! Lotte Skjærbæk and Safir, a carbon copy of his sire Skovens Rafael, took third place in the finals ahead of Silje Bakken aboard Tailormade Ralph Lauren (by Skovens Rafael), which has previously been trained by Dutch Edward Gal. Amateur rider Tenna Abel Larsen took 8th place on her black Rio H (by Skovens Rafael).
Meanwhile, the three 4-year-old offsprings by Skovens Rafael, Tailormade Ralph Lauren, Rio H and Rafaella K, have all qualified for Danish Warmblood's prestigious Young Hors Championship taking place in Herning in March 2013. Out of 37 young dressage horses qualified for Herning, Tailormade Ralph Lauren stands out having achieved the highest score of all, which is 950 points (out of 1,000 pts) .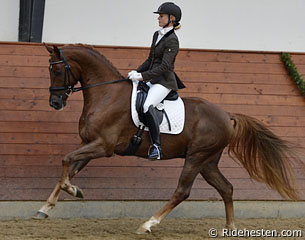 Skovens Rafael also has offspring in Belgium, Holland, Norway, Sweden and the USA. Swedish Lena Nyström, the breeder of the young star stallion Tomahawk, which sold for 800,000 euro in Vechta, was the first foreign breeder to use Skovens Rafael when the sire was three years of age. Nystrom got the colt Revolution out of her Furst Heinrich mare, which sold as a foal and is now in training with the Swedish top rider Anna Svanberg, an experienced professional rider who competed at numerous World Championships in Verden. Svanberg, who also has another 3-year-old Skovens Rafael offspring in her barn, is very excited about Revolution who is developing into a promising dressage prospect.
Skovens Rafael stands at stud at stallion station Katrinelund in Denmark. Frozen semen is shipped all over Europe for 160 euro per straw!
Check out Skovens Rafael's Stud Card on Eurodressage.com
Photos © Ridehesten.com - Patrick Olsson
Related Links
Skovens Rafael, Price Highlight of the 2007 Danish Warmblood Stallion Auction
Zonik, Holballes Deeba, Samba King Win 2012 Danish Young Horse Championships
News Flashes from the 2008 Danish Warmblood Licensing
Edward Gal Snatches Ride on Ralph Lauren at CDI Oslo