British Dressage News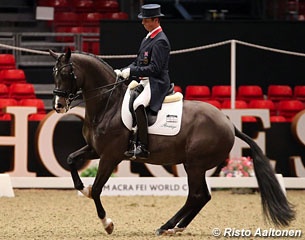 Carl Hester will be competing his European and Olympic medal winning horse Uthopia for the last time in the 2012 CDI-W London Kur to Music tonight at the 2012 Olympia Horse Show in London on Tuesday 18 December 2012.
Legal issues concerning the ownership of Uthopia force Hester to stay home with the horse until it is sold. "Uthopia is not sold, just under the injunction (so) I can't compete abroad," Hester told Eurodressage. "(I want to take) no more risks and that's it until he's sold."
The 11-year old licensed stallion Uthopia (by Metall x Inspekteur) is owned by Sasha Stewart on paper, with Carl having a minor stake, but recent disputes with the bank revealed that the black stallion sold to an anonymous investor a few years ago.
Because Stewart dealt with bankruptcy in 2010 creditors are still after Stewart to reclaim money through Uthopia. The bank placed an injunction on Uthopia until matters are solved by lawyers from all parties involved.
"Right now I feel like it's the end of a journey for me, but it's been a great one so I'm not really unhappy or upset about it because I know that someone else will really enjoy riding him," Carl Hester told Lloydbell as posted on Horse & Hound. "I get pleasure from seeing other people ride my horses, which is of course why Charlotte rides Valegro. It gives me huge pleasure, it's almost as good as doing it myself.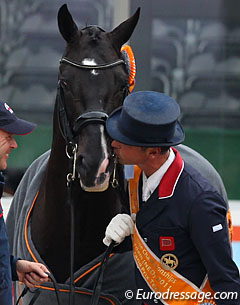 It is definite that Uthopia is for sale and that the Hester-Uthopia partnership has come to an end. "It will be great to team him up with another rider and see him do well hopefully," Carl stated.
While it was expected that both Valegro and Uthopia would sell quickly after the 2012 Olympic Games, the horses have not sold yet, but plans for selling remain unchanged.  "I'm nearly at the end of my career now and I'd like to think that I can have some security and will be able to pay my mortgage off like everybody else," said Hester. 
"Every day I've got to ride this horse has been an extra bonus," Dujardin told production company LloydBell as posted on Horse & Hound. "It would be fantastic to find a syndication to keep him, and for me to ride him, but Carl deals with that side of things."

Valegro is owned by Carl and long-time business partner Roly Luard. "Roly and I always said we'd offer a half share to anyone who wanted to help keep him in the country, and we'll give that until January," Carl explained. "We hope people come forward and keep the ride for Charlotte. I'm sure he'll be winning gold medals for at least the next six years, its the best partnership we've ever produced. There was interest after the Olympics and some offers on the table, but nowhere near what we are looking. But he's been in my stables for eight years, so isn't an easy decision – but we have to work for a living and I have a stable to run."
Photos © Risto Aaltonen - Astrid Appels
Related Links
Olympic Champion Charlotte Dujardin to Compete Valegro at 2012 CDI-W London
Rumour Control: Valegro and Uthopia Not Sold to Saudi Arabia
Valegro, Uthopia, Parzival, Undercover Nominated for 2012 KWPN Horse of the Year Award
Carl Hester and Uthopia 'Uphoria' at the 2012 Olympic Games
Uthopia Approved for KWPN Breeding