KWPN Breeding News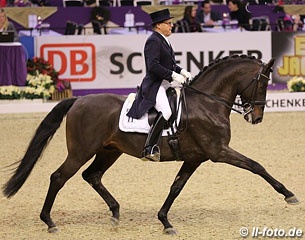 None of the dressage stallions presented at the late inspection for a ticket for the 2013 KWPN Stallion Licensing were accepted by the Dutch licensing committee. This late inspection was held on the final day of pre-selection on 15 December 2012 in Ermelo, The Netherlands.
Twenty dressage stallions were presented to move to the second phase of the 2013 KWPN Stallion licensing but the committee did not consider any of them good enough for potential licensing.
"I hope that people have seen here what we also saw and we thought not a single stallion fulfilled our criteria at this moment," said Wim Ernes, chair of the KWPN Licensing committee. "It's a pity but we have to and want to stay on the same level we set on the first day. We are disappointed because on paper there were a several interesting stallions and we want to give the stallions a chance but unfortunately we couldn't do it today. Of course we are very positive about the entire collection and have high expectations for Den Bosch."
The 2013 KWPN Stallion Licensing collection includes 81 dressage colts, including two older stallions. For the show jumping division 125 colts were accepted alongside 2 Guelderlander stallions, which brings the entire collection to a total of 208 colts.
Stallions that failed to impress the KWPN committee were the 2012 Holsteiner reserve licensing champion Carantas (by Carabas x Canto), which showed little self carriage in trot and a mediocre walk.  The Oldenburg bred Fidertanz x Latimer, which was generously licensed as the beautiful colt showed a weak walk in Vechta, did not make the cut in Holland.
Photo © LL-foto.de
Related Links
Twenty-Eight Colts Accepted at 2013 KWPN Stallion Licensing Pre-Selection
Twenty-Six Colts Accepted on Second Dressage Day at 2013 KWPN Stallion Licensing Pre-Selection
Twenty-Seven Colts Picked on Third Dressage Day at 2013 KWPN Stallion Licensing Pre-Selection