KWPN Breeding News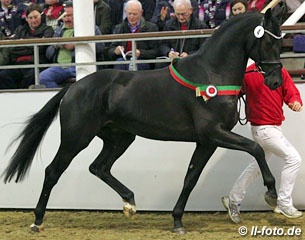 Twenty-seven colt out of a group of 61 were picked on the third and last dressage day at the 2013 KWPN Stallion Licensing pre-selection in Ermelo, The Netherlands on Saturday 8 December 2012.
"The quality today was outstanding," said licensing committee president Wim Ernes. "We can be proud of our breeding and we were able to select with pleasure. We were able to work together well within the committee and have seen many good stallions.  Stallions with movement, size, self carriage and expression. Especially the size was good, which seems like we are making a step forward in the breeding."
The best performing sires were KWPN licensing champions Ampere (by Rousseau x Flemmingh) and Bordeaux (by United x Gribaldi), which had seven and five sons selected for the second phase.
"Ampere showed to pass on much movement, power, suppleness and sufficient model. We saw a few complete stallions and without disrespecting the others I would name Flow (by Ampere x Gribaldi - colt is already licensed in Westfalen as All At Once), Fierce S (by Ampere x Ferro) and F (by Ampere x Jazz). They are very complete horses that move uphill, have the ability to collect and extend well and moved through the ring as kings."
Bordeaux' offspring stood out with their "movement, suppleness and body usage". Ernes added that they "fortunately have sufficient breed expression. They got better when they started moving."
Armani (by United x Jazz) had three offspring picked. "Armani's sond have a nice front, self carriage and sufficient movement quality and size," Ernes commented.
So far 81 colts have been accepted for the second phase of the 2013 KWPN Stallion Licensing. The late-licensing (for late comers to the process) is on 15 December 2012.
Source: KWPN
Photo © LL-foto.de
Related Links
Twenty-Six Colts Accepted on Second Dressage Day at 2013 KWPN Stallion Licensing Pre-Selection
Twenty-Eight Colts Accepted at 2013 KWPN Stallion Licensing Pre-Selection
Vivaldi Best Represented Sire at 2013 KWPN Stallion Licensing Pre-Selection Days