2012 CDI-W Stuttgart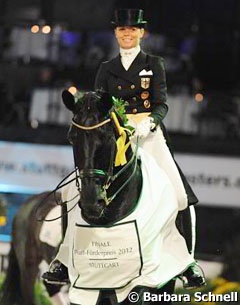 Stella Charlott Roth and her German Olympic team horse Diva Royal (by Don Frederico x Warkant) won the 2012 Piaff-Förderpreis Final for German Under 25 riders at the 2012 CDI-W Stuttgart on Friday 16 November 2012.
Rubbing his hands show director Gotthilf Riexinger commented that "in Stuttgart horse lovers can watch the next generation of Olympic riders." This most likely could have happened for the 2012 edition of the Finals, which was won by Stella Charlott Roth and her 10-year-old mare.
Roth followed in the footsteps of her coach and Olympic silver medal winner Dorothee Schneider to secure the win wit 70.681% in the Grand Prix Finals test. 
"The crowd and atmosphere in the Hanns-Martin-Schleyer-Halle is still awe-inspiring for me but Diva knows in the meantime what it's all about," Roth commented after winning this big title.  Trainer Dorothee Schneider was also happy with her protégé and said "it's nice seeing how the two are gelling together."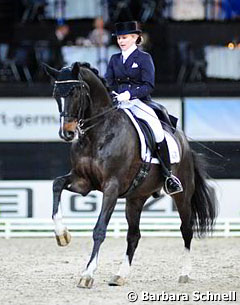 Aboard the 12-year-old Holsteiner gelding Loverboy (by Lorentin I x Alcatraz) Jenny Lang finished second with 69.702%. Victoria Michalke and the 10-year-old gelding Dance On placed third with 69.277%.
The team coach of Germany's Under 25s Jürgen Koschel was delighted with the high quality of the competition. The format for the Piaff Forderpreis Finals recently changed from using the Short Grand Prix to the classic Grand Prix as actual Finals' test. "Today every rider can ride a Grand Prix. The public also embraces the series as the current Olympic riders make a name for themselves here."
German team coach Monica Theodorescu was also full of praise: "It's great how technically clean the youngsters are riding and how well they sit on the horses."
Photos © Barbara Schnell
A detailed report on the 2012 Piaff Forderpreis Finals here: A Dancing Diva and Holsteiner Dressage Power at the 2012 Piaff Forderpreis Final
Related Links
Scores 2012 CDI-W Stuttgart
Anabel Balkenhol Sweeps CDI4* Grand Prix at 2012 CDI-W Stuttgart
Helen Langehanenberg Makes a Move to the Top in 2012 CDI-W Stuttgart Grand Prix