Hanoverian Breeding News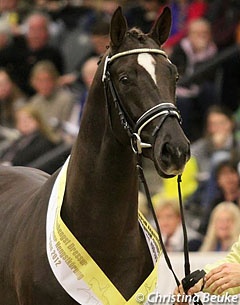 With a crop of some 100 stallions selected for the 2012 Hanoverian Stallion Licensing held in Verden, Germany, the Hanoverian approval commission (Hans-Heinrich zu Strohen, Hans-Henning von der Decken, Dr.Werner Schade, Heike Kemmer, and Peter Teeuwen) had their work cut for them.
Beforehand, a lot of buzz was created by the internet community about a seemingly outstanding dressage crop and a versatile and refined jumper crop. And much of this was confirmed on the hard surface and triangle, when a number of dressage specialists really impressed with excellent, powerful movement, developed from strong haunches and carried over elastic backs. Very atypically for Hanover, we also observed rather incorrect foundations, and much more frequently than in previous years. Especially rotations in the pastern joints were obvious and are food for thought. There is always debate over how "form or function" determine a horse's career. However, we should all conclude that only a healthy foundation will hold up over years of training and showing and correctness was once a true Hanoverian stronghold.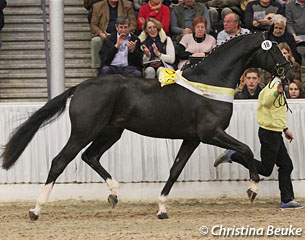 Going by the auction price the top stallion of the event was Danciano, a black Dancier x Rotspon son, bred by Jan-Niclaas von Holten from Langen and presented in Verden by Detlef Ruddat from Kirchlinteln. The stallion impressed from day one with movement carried from an energetic hind end, great type and overall harmony, but a big question mark regarding the top line (strength, connection) remained. Paul Schockemöhle and Andreas Helgstrand bought the stallion in partnership for 320,000 euro.
Another 6 stallions had knock down prices of 100,000 Euro or more – among them the biggest controversy of the days, a liver chestnut son Veneziano (by Vivaldi x Donnerhall).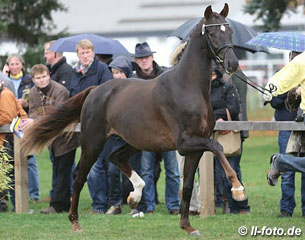 Bred by Hans Heinrich Schnadt from Rinteln and presented by Rolf Trute from Cremlingen the stallion was a hot contender during his triangle presentation, although it remains a mystery to us why the announcer thought it was necessary to ask for some applause specifically in his case. The at liberty phase was already less high quality, and the lunge line on Saturday finally sealed the deal on this horse – a horse with a fantastic front arm, great shoulder freedom and about the most exuberant mechanics, but also by far the weakest back end of the stallions this year. This colt fetched a price of 260,000 Euro and sold to a new formed partnership between the Celle State Stud and Hubertus Poll of Gestüt Hörem in Lower-Saxony.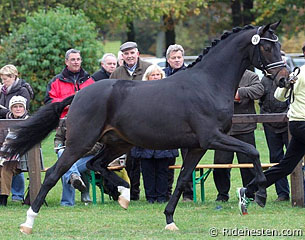 One of the best all-around stallions of the crop was an exciting black Dr. Watson (by Diamond Hit x Florestan)  bred by Nicole Wanning from Schüttorf and presented by ZG Wanning, Schüttorf. Although a bit older in style and type, and also developed way too much for a colt his age, the stallion developed incredible power in his movement, never got tired, and got many dressage fans excited. The stallion sold for 220,000 euro to the Celle State Stud.
A highly sympathetic horse was the Christ x Don Schufro premium stallion bred by Hans-Jürgen Hollmann from Needstedt, presented by Heinrich Ramsbrock from Menslage. The stallion was very noble and refined, and moved eloquently and with great rhythm and balance, a trait that was also observed during his lunging session. For 160,000 Euro, he was acquired by Gestüt Sprehe where he will stand next to his sire.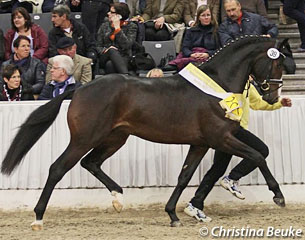 One of the best stallions of the crop was Furstenhof (by Fürst Grandios x Weltmeyer) bred by Karl Lehing from Wagenfeld and presented by Henning Mues from Stolzenau. The quality of this horse was apparent from day one with an excellent walk, very energetic trot movement and a refreshingly good at liberty and free jumping performance. The close-coupled build and very elastic loin connection made this horse sit naturally in every turn and transition – a dressage rider's dream. Three German State Studs bought the youngster at auction for 110,000 Euros – from now on, Redefin, Celle and Marbach will have to work out who gets the horse.
Of similar type, with a wonderfully uphill tendency in all gaits, good self-carriage and especially good canter was the bay premium by Floriscount x Fürst Heinrich, bred by Helmut Vietor from Weener and presented by Heinz Klatt from Stade. The stallion sold at auction for 87,000 Euro to Switzerland.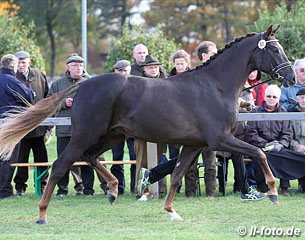 One of the most talked-about stallions of this year's crop was a liver chestnut Quantensprung (by Quando-Quando x Donnerhall), bred by Gabriele Berner, Bienenbüttel and presented by Limbecker GmbH & Co. KG from Bernried. He had the best walk of all stallions present this year, hands down. The horse has a tremendous presence and close to ideal mechanics that make it a bit easier to overlook the very obvious sicklehocked hind end. Burkhard Wahler from Klosterhof Medingen purchased the horse for 200,000 Euro and has probably found a great new source of outside blood for his client's foundation (De Niro, Hohenstein), while still offering a bloodline connection via Donnerhall.
The average price for an approved stallion was 52,000 Euro this year, the non-approved stallions were sold for 19,250 Euro. One has to wonder what would have happened if none of the State Studs had felt in the mood for shopping – the number of private studs buying in Verden was fairly low this year. Maybe this is just another way to look at the ever changing demographics in horse breeding. Talk in the barn aisles was that many semi-professional stallion presenters do not really see the value anymore in fighting against the few big names in the business, and that is not something only seen in Hanover. The scene is changing and possibly not for the better. Time will tell.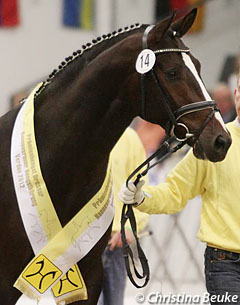 The Celle State Stud stallion Don Frederico was proclaimed "Hanoverian Stallion of the Year" in 2012, and was so busy marking his territory in the Niedersachsenhalle that he didn't even get to show off in hand. As a sport horse sire, the black former Champion from Verden is proven beyond all doubts and had his Olympic debut in 2012 with German team Silver medalist Diva Royal, ridden by Dorothee Schneider. Don Frederico himself competed at FEI level, and was bred by Angelika Westerhoff from Bleckede. Born in 1997, the stallion is by Donnerhall out of Cleopatra by E.H. Consul/Trak. x  Gardeulan I. A total of 25 sons have been approved so far.
And last but not least, the most touching moment this year came when long-time auctioneer Friedrich-Wilhelm Isernhagen officially retired from the podium in Verden – a podium that was his "home" for 37 years. Very few people reached this level of professionalism, integrity and style when auctioning horses, and for many, Isernhagen's retirement marks the end of an era. The farewell in the Niedersachsenhallen moved everybody in attendance, and was a true highlight, albeit a sad one, this year.
Text by global-sporthorses.com for eurodressage
Photos © Ridehesten - Christina Beuke - LL-foto.de
Related Links

Don Frederico, Hanoverian Stallion of the Year 2012
Dancier x Rotspon Stands Out at 2011 Hanoverian Stallion Licensing
Ten Premium Dressage Stallions at 2010 Hanoverian Stallion Licensing
No Top Collection at 2009 Hanoverian Stallion Licensing but Super Price Highlights