2012 Danish Young Horse Championships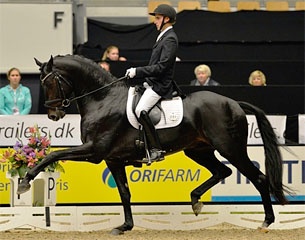 The 4-year old Zonik, the 5-year old Holballes Deeba, and the 6-year old Samba King became the champions by winning the Finals test at the 2012 Danish Young Horse Championships held at the CDI-W Odense last week. Organized by the Danish Equestrian Federation, these championships are open to horses of all registries and divided into three age categories. All three champions were Danish Warmblood horses.
Zonik 4-year-old Dressage Champion

Among the 16 finalists in the 4-year-old division, the 14 highest placed were Danish Warmbloods. The qualifier as well as the final were won by the Danish Warmblood stallion licensing champion Zonik (by Zack x Romanov). Bred by Linette Jaeger and ridden by Andreas Helgstrand, the black stallion  Zonik was flawlessly presented and achieved a clear 10 for his expressive trot and a total of 9.30.
The former Elite Foal Auction price highlight, premium stallion Tailormade Attention, became runner-up with a total score of 9.22 only 0.80 points behind Zonik. Tailormade Attention (by Abanos x Boegelys Camaro) was ridden by Norwegian Silje Bakken and achieved 9.5 for both trot and canter.
With his first crop of 4-year-olds the double world champion finalist Skovens Rafael (by Romanov x Don Schufro) stamped the finals with no less than three horses. In 2007 he was only the 26th most frequented stallion in Danish Warmblood and only covered 50 mares. Out of this first crop three offspring made it to the finals and placed 3rd, 4th and 8th at the Danish championships in Odense.

The 4-year old final was judged by Jacques van Daele, Kurt Christensen and Bjarne Nielsen.
Gold medal mare Holballes Deeb at correct training level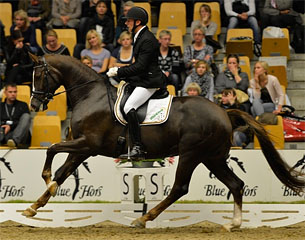 Gold medal mare Holballes Deeba (by De Noir x Resident) was one of the best dressage mares at the Danish Warmblood Elite Show two years ago. In Odense the chestnut mare, bred by Bianca & Carsten Jefsen, displayed her supple and uphill movements along with great rideability which lead to a total of 8.66 points and the champion's title. Holballes Deeba was ridden by Michael Groenne Christensen who was praised by international judge Peter Holler for the correct training level of the horse.
With 8.5 Andreas Helgstrand and the former Elite Foal Auction price highlight Moellegaardens Pas Partout (by Don Primero x Boegelys Camaro) became second best Danish Warmblood horse ahead of "Dressage Mare of the Year 2010" Sirikit (by Hotline x Don Schufro).  Bred by Peter Christensen, the gold medal mare and world championships contestant Sirikit scored 8.22 under the saddle of John Hvalsoe Saul.

The finals for both 5- and 6-year-olds were judged by Peter Holler, Susanne Baarup and Bjarne Nielsen.
Samba King Has Swagger!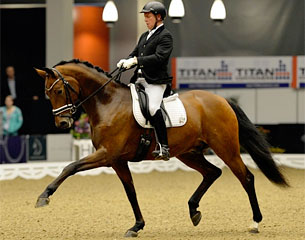 The 6-year-old crowd favourite Samba King (by Sandro King x Lancet) was perfectly presented by Jim Rasmussen and scored 9.20 for trot and 9 for rideability which was enough to secure the champion title at a total score of 8.84. The bay is bred by R. Hagenaars.

Atterupgaards Final Kiss (by French Kiss x Diamond) under Jens Soendergaard was the second best placed Danish Warmblood horse with 8.32 points. The double world championships contestant N.O.H.'s Daijoubou (by Daddy Cool x Picandt) scored 8.24 under Anna Blomgren and was third best Danish Warmblood horse in the final for 6-year-olds.
Photos © Ridehesten
Related Links
Scores 2012 Danish Young Horse Championships