Opinions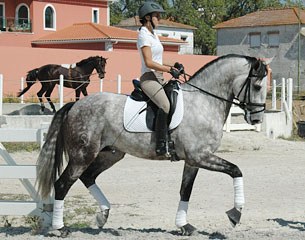 Our Guest Columnist of the week is Eurodressage's passionate contributor Sarah Warne. The 26-year old Australian grew up on horseback and  inherited her mother's passion for dressage. A long time student of Nuno Oliveira, Sarah's mother wanted to purchase a Lusitano
directly from Portugal and so Sarah was sent to Europe in search of the perfect Baroque. Sarah quickly found her mother's dream Lusitano stallion, but having fallen in love with the breed herself, stayed on in Portugal to pursue her own dream of competing internationally in dressage. Sarah now trains in the classical way with Nuno's disciple João Pedro Rodrigues and is loving everyday she spends training her 6-year old Batialo and the 10-year old Ulisses.
Creating that Special Something
We all know horses are amazing animals and that in riding them we create a partnership. People often talk about harmony with their horse, about friendship, trust, fulfillment and happiness. If we take the time to really think about the horse, about our role in its life and its role in ours, it is so much more than that. 
Dog owners say that their dog loves them unconditionally and I believe that special horses can love, but a horse's curiosity and instinct are what really captures my attention and my imagination. Have you ever stared deep into a horse's eyes, or tracked the different, yet very distinct, ear placements a horse adopts during training? Dogs look up to us, cats look down on us, horses look at us with a curiousity and puzzlement that we will never fully understand, but we can take the time to appreciate it.
A man can spend all his life with horses and only in reflection, or retirement, appreciate the bond he has with the animal, the power of its existence. As keen riders, we go out and jump on our best friends and we dream of taking them on a journey all the way to the top.
Our pure enjoyment though is nothing to what some people spend a lifetime trying to capture. What is our link to the horse? What do they think of us? Why do they know if we are afraid? Why do they instinctively liken to one rider and obnoxiously shy away from another?
We all know the stories of how a horse so calm and pleasant with one person, will flee and panic in the company of another. Harmony doesn't begin to explain a rider's ability to produce magic in the dressage arena, nor does it explain why we often witness a truly amazing partnership, watch as the couple rise up through the levels and come out at Grand Prix to WOW the crowds, only to see that after the horse is sold, he is never the same.
Consider the many amazing combinations you know, how often do these combinations come about with a rider who bought the horse at Grand Prix level? Perhaps to create true magic, horse and rider have to have gone through it all together and while the horse may be brilliant, producing his true potential is based on a very personal connection with his rider.
One of the greatest difficulties in riding then is realizing when you and a particular horse will never get on and admitting this and moving on to another better suited to you and your riding self. This is not admitting defeat or being any less of a rider, but quite the opposite, it's admitting that this horse is not the right fit for you, either emotionally or physically, and neither of you will become your best while you remain together.
So what does a horse have that bonds him to his rider, what allows one horse to succeed where another may fail? Once upon a time horses forged their way onto the battle field, today they leap over unbelievable heights, dance to music, and neigh out to us when they hear us approaching!
"The term harmony just recognises one desirable quality that comes from a good relationship," says Richard Weis of Dressage Riding Technique. "When I delve into it, riders use the term harmony typically to mean when the horse does exactly what the rider wants without resistance. That line of thinking robs the rider of the rich experience of engaging with curiosity and intrigue in the qualities that make a horse a horse. Paid slave or lover? Which would we choose? I love it when I hear trainers talk about how every horse is different and all need to be treated differently. Those trainers are intrigued by the individuality of the horse and the training challenges of fathoming it."
Richard makes a great analogy, saying that a horse and rider partnership is much like taking someone out to dinner. Some horses will answer the phone in the middle of the meal and despite the rider's best efforts to engage in conversation, a lot of alcohol (aids) is needed in order to keep things running. However, sometimes we take a horse out to dinner and he is totally listening to what we have to say, we share every course, and we don't need to pursuade him with alcohol to have an equally enjoyable experience. Then once in a million the horse not only meets us in the middle, but goes on to thrill us and everyone else in the restaurant with his charisma and sharp intelliect!
Marie Gahan attended the first and every Australian clinic after of the great Nuno Oliveira. Aged 82, Marie Gahan has spent her life with horses, and I thought that my 26 years would be nothing in comparison to what she has learnt and learnt to feel, from her many years with the horse. As one of Nuno Oliveira's most devoted pupils, Marie has many stories about the profound effect the master of classical riding had on her during his visits to Australia. Nuno could make a horse canter backwards, but looking at Nuno Oliveira's physique, you would not think he was naturally gifted in the saddle. Those who knew him say, "he was a genious," so what was it that connected him to the horse in such a profound way.
Marie's greatest success was on her longtime friend, The Flying Dutchman, which Marie trained from him being backed all the way to GP. She says she felt a very special relationship with that horse in particular as they shared so much together. "Duchy was such an intelligent and sensitive horse, he gave me the impression he would do anything I wanted him to because he never resisted in any way ever. He gave me the opportunity to do things in our small dressage world that I probably would never have achieved without him, and for that I will be forever grateful."
Do riders ever feel that their horse has been the means of their success and achievements, I wonder? "When I look back and remember he was Champion at every level from Elementary to F.E.I., he was very rarely ever beaten in Victoria, and I think that was quite special. I have the records of all his tests and am still amazed that I managed to do what I did, as such an untalented person, and I do not say that looking for praise, it is a fact. You on the other hand had talent from day 1. So I give all the credit to Dutchman."
Ending her riding career in 2008 Marie says it is only now that she can truly begin to understand the effect the horse has had on her life. "I think my true appreciation of the emotion is now , as in the doing you are too pre-occupied to really feel what is going on, it is not until you stop and look back and realize what an enjoyable journey it has been. I always knew that horses were no.1 in my life. Even if now I am crippled with arthritis because of being too "gung ho" with the young horses and having too many unnecessary falls, I think I would do the same things over again. The only disappointing thing is the fact that there is so much more to be learned and I have run out of time."
Highlighting an interesting word, Marie believes the "relationship" with a horse is different to all others because the horse really is dependent on you for everything. "A person is not so dependant on you and a dog wants to be your devoted slave, but a horse does not. A horse looks to you and asks you what you are after."
Does a horse feel emotion towards us, or is he merely adhering to the historical behavior, where horse lives to serve man? Does a horse tame his emotions when he comes into the dressage arena, just as a rider must tame their own to remain focused and balanced in the saddle?
"You ask if emotions can be tamed? In riding we have the very best metaphor for our own personal struggles,"says Richard. "The spirit of the horse, wild unbridled power, but with kindness and with clarity, we can harness and direct that power, producing something beautiful, something useful. When I am on my horse, working with him, I don't feel hunger, or thirst, I don't notice the dog running about, unless of course my horse does."
As the dressage world unites against wrongful training we should consider that at the core of it all lies our relationship with the horse. If you know your horse, you can better assess why he behaves the way he does and hopefully find that sanctuary of peace in your working relationship.
To train with lightness and compassion, we need to have compassion for our partner, and know them well enough to treat them equals! I don't try to quantify or define our relationship with the horse, as I do not believe that the bond between horse and rider can ever be truly captured. I just want you to think: When you go out to your horse, instead of just jumping on, look at him, ask yourself what he is thinking. Why does he let you get on his back, and dance with him, even though given his power there is really nothing stopping him from flying back into freedom. He has been taught to respond to our rein aid, as he has learned to respect it. Is it out of his devotion to us, that he accepts our feeble command to stop, to wait to listen? There is no word to describe our link with horses, but harmony just doesn't cut it!
by Sarah Warne
Related Link
Read Sarah Warne's Classical Training Articles on Eurodressage