2012 CDI-W Kaposvar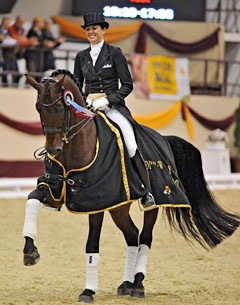 Australian Olympian Lyndal Oatley won the World Cup Qualifier in Kaposvar, Hungary, by topping the leader board in the Grand Prix Kur to Music on 14 October 2012. Aboard her Oldenburg gelding Sandro Boy (by Sandro Hit x Argentinus), Oatley produced a personal best score of 76.525% in the Kur, beating Polish Katarzyna Milczarek on Ekwador.
"I can honestly say that I had dreamed of standing in an arena and hearing the Australian anthem, but the reality of achieving such a moment felt like a dream in itself," Oatley commented about her World Cup victory. "I cried and cried and cried, standing up at the Grand Prix presentation. I was totally overwhelmed! This moment, hearing the National Anthem for Sandro Boy's performance, was without a doubt the highlight of my weekend!"
Winning in Kaposvar was her first Grand Prix win in her career. "It still feels a little surreal and odd, but it's rewarding as you feel like you are moving forward, and that is a great feeling to have," said Oatley. "I know how hard it is to reach this accomplishment, and it does not come easily. You have to enjoy the highs in this sport, as you never know when the next low is heading your way. I am clearly going to soak this one up!"
The 2012 CDI-W Kaposvar celebrated its 25th anniversary of organising the World Cup qualifier. Initially the show was an outdoor event held in May, but when the huge indoor was completed in 1991 the show moved indoors and is held every second weekend of October. Past winners of the World Cup Qualifier include Holger Münstermann GER (Flair - 2x), Dallos Gyula HUN (Aktion - 9x), Sophie Wels GER (Banause), Herbert Boger GER (High Noon), Daniel Ramseier SUI (Rali Baba - 2x), Heike Kemmer GER (Albano), Silvia Iklé SUI (Salieri), Lone Jörgensen DEN (Ludewig G - 2x), Anders Dahl DEN (Afrikka), Michal Rapcewicz POL (Randon), Peter Gmoser AUT (Cointreau), Ulla Salzgeber GER (Wakana) and Katarzyna Milczarek POL (Ekwador).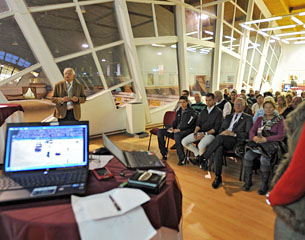 In the show's 25-year history more than 150 judges have officiated at the event, amongst them Wolfgang Niggli, the former president of the FEI Dressage Committee, as well as renowned senior judges Barnabás Mándi and Wojtek Markowski, who have been there since the first show in 1988. More recently the younger generation of Hungarian FEI judges, such as Kinga Szűcs Gáspár and Orsolya Hillier, have been assessing the rides in Kaposvar.
This year eleven nations and fifty horses competed from Pony level up to Grix Prix at the CDI-W Kaposvar. The organiser Pannon Equestrian Academy celebrated the jubilee occasion with a nice reception on Saturday evening, while on Friday evening dr Wojtek Markowski, president of the ground jury, held a lecture about the history of the Olympic Games. The show was also the scene for a national trainers and judges seminar with practical demonstrations about judging the different dressage movements.
"In the past Nashua and later Volvo sponsored the World Cup qualifier series but now each show venue has to find his own way of sponsoring, which is not always an easy task," said Kaposvar show director Dora Hafner. "The state owned Equestrian Academy has a strong intention to organise a nice show in 2013 as well and has ambitions to be leading show in this region."
Related Links
Scores 2012 CDI-W Kaposvar
Jorgensen Wins Central European League Qualifier in Kaposvar
Anders Dahl and Afrikka Riding High at the 2007 World Cup Qualifiers