2014 World Equestrian Games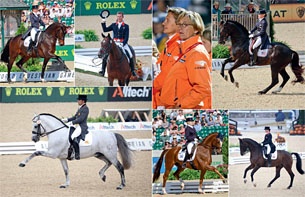 Test events in four FEI disciplines will take place in 2013 and a further two in 2014 in preparation for the 2014 World Equestrian Games in Normandy.  The test events in Jumping and Dressage will be held in June 2014, whereas the other disciplines will be tested in August and October.
The test events will run according to the following schedule:
 
Endurance –16 August at Sartilly
Eventing –16-18 August at Haras du Pin and Caen
Driving –22-25 August in Caen
Reining –20 October in Caen (Parc des expositions)
"The Organising Committee and the FEI are working in close cooperation to stage the best possible test events and to deliver Alltech FEI World Equestrian Games™ 2014 of the highest quality," FEI Secretary General Ingmar De Vos commented.
"Test events in six FEI disciplines will be organised and even though no specific test events will be held in Vaulting and Para Equestrian, all technical aspects will be examined to ensure the competitions in all the disciplines meet the same level of excellence."
The Games' Organising Committee has now confirmed that the Dressage and Cross Country phases of Eventing will take place at Haras du Pin and the final Jumping phase will be held at the main stadium – Stade Ornano – in Caen.
"Haras du Pin is renowned for the quality of its infrastructure and the FEI is very pleased that a plan that meets all our requirements regarding the best possible conditions to ensure horse welfare has been agreed to," Ingmar De Vos added.
Looking ahead to the 2018 World Equestrian Games, Rabat (MAR) has withdrawn from the bidding process.
"The sad passing of HRH Princess Lalla Amina has meant that the Moroccans have lost the driving force behind their bid to stage the FEI World Equestrian Games in 2018," said Ingmar De Vos. "We have two strong bids from Canada and Austria for 2018, and we are hopeful that the Moroccans can regroup and put in a bid for 2022."
Bromont (CAN) and Vienna (AUT) are still in the running to host the 2018 World Equestrian Games. The host city will be selected by the FEI Bureau in the spring of 2013.
Related Links
Five Confirmed Bidders for 2018 World Equestrian Games
Ebreichsdorf, Candidate to Host 2018 World Equestrian Games in Austria
Bromont Applies for 2018 World Equestrian Games
Austria Added to List of Cities Bidding to Host 2018 World Equestrian Games
Hungary Withdraws Bid to Stage 2018 World Equestrian Games
USA Withdraws from 2018 World Equestrian Games Bidding