Oldenburg Breeding News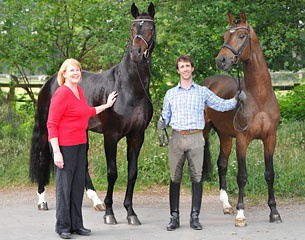 England based American Elizabeth Crocker has purchased two top stallions from Paul Schockemohle to stand at stud in Great Britain. First Final and Florenzo arrived in the UK on September 12, 2012.
The 2003 born First Final (by Furst Heinrich x Argentinus x Barsoi xx) is fully licensed for Oldenburg and Westphalia. Previously co-owned by Paul Schockemohle with Tony and Sarah Pidgley, First Final has a 5-year old Westfalian daughter, Athena Nike who won the Belgian WCYH Trial at 2012 CDN Schilde with a score of 82,400. Athena Nike was also Belgium's second reserve selected for the 2012 World Young Horse Championships in Verden. First Final's Westfalian licensed son, First Selection won the 5-year old L-level dressage horse test at the Bundeschampionate qualifier in Coesfeld/Lette on June 8, 2012. First Final has other approved sons.
The 2008 born Florenzo (by Furst Romancier x Riccione x Don Schufro) is approved for Oldenburg and will be competed at a 2013 Bundeschampionate qualifier and other international Young Horse competitions. Both stallions are now based with Mrs. Crocker's trainer, Ignacio Pantiga of High Performance Dressage. Ignacio has his own stable block at Aston Farm, Cherington, Glouchester, the fantastic yard owned by Sandy Phillips.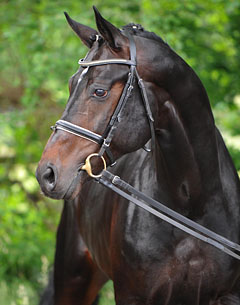 After many months of frustrating and disappointing searches in the UK for a top horse to replace her stallion Captain Black (2007 by Painted Black), who was put down in 2011, Ignacio suggested to Elizabeth she look in Europe. In May they went to Holland and Germany, visited several studs where Ignacio rode many stallions, including seven pre-selected and ridden by Markus Gribbe, Ignacio's former trainer. First Final and Florenzo were short-listed, and in June they revisited Paul Schockemohle's yard for another look and ride. Elizabeth could not just pick one or the other, so worked with Joseph Klaphake to buy both, and further agreed for the stallions to stay on at Deckstation Schockemohle for semen testing and collection.
Elizabeth Crocker is a very passionate horse woman who has been associated with horses since age 4, first in America where she spent her summers on her grandmother's Texas ranch learning the ropes (literally) with quarter horses. Moving on from competing in Western riding, she became a successful 3-day eventer, and later a successful show jumper, both with her black Trakehner stallion "Stevie", while working full time as a registered nurse, and later as a healthcare business entrepreneur.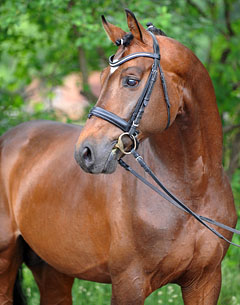 Elizabeth unexpectedly moved to England in 2000, a few months after marrying her British husband Mark. She continues her international healthcare business career, and her passion for horses. She also owns Catherston Florentine (by Faberge), Debutante (by Keystone Rhondeo), both in training with Ignacio, and King of Jazz CHB (by Johnson x Jazz) a yearling.
Ignacio started riding at the age of 15 in Spain. He worked with both jumping and dressage horses for three years before moving to England in 2004 to pursue eventing. Firstly based with Daniel Timson, Ignacio decided dressage was his passion. He then continued his training with Pammy Hutton where he gained his qualifications, and further developed his skills in dressage and teaching. In 2007 Ignacio became first rider for Markus Gribbe, international German rider and trainer. Markus and Ignacio were first based at Tony and Sarah Pidgley's Kilbees Farm, England before moving to Lodbergen, Germany in 2009.
The stallions will be produced and competed by Ignacio, and their semen is available for the 2013 breeding season. For more information please contact Elizabeth at +44 7766 910 623 and elizabeth@eacrocker.com, or Ignacio at +44 7707 462 124 and info@highperformancedressage.com.