2012 CDI Devon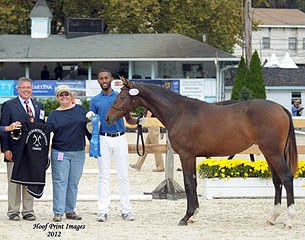 Dressage at Devon attendees were treated to an amazing array of individual breed classes in the world's largest open Breed Show on Thursday 27 September 2012.  From Andulusians to Gypsy Vanners, and Hanovarians to Knabstruppers, each breed had the opportunity to show off its unique qualities.
In the Hanovarian – Age 2 and under, Francheska AH (by Fielding out of SPS Malena), bred and owned by Kate Palmquist, took home the blue. In the 3 year old and older KWPN-NA class, Toraya (by Goodtimes out of Lora), bred by J. Boorsma and owned by Iron Spring Farm, Inc., won first place.
As the evening drew near, the performance division kicked into gear. It started with the USEF Fourth Level Test of Choice in which two former Dressage at Devon volunteers competed.
FEI and USEF tests rounded out the evening. The FEI Young Horse Test for 6 Year Olds was won by Simply Nymphenburg, ridden by Dr. Cesar Parra and owned by Michael and Sarah Davis, with a score of 80.600. The 5 year old class was won by Leonardo (by Landtinus out of Rambala), ridden by Kim Gentry, with a score of 76.200.
Photo © Hoof Print Images
Related Links
Beatrice VDL Named 2012 Devon Breed Show Grand Champion
David Bowie MF Named Foal Champion at 2012 Devon Breed Show