2012 Swiss Young Horse Championships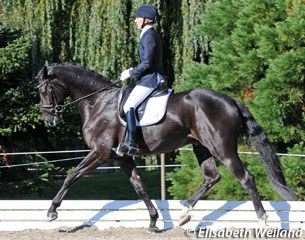 The 4-year old Delioh von Buchmatt, the 5-year old Furstentraum and the 6-year old Ruwina became the winners at the 2012 Swiss Young Horse Championships held in Avenches, Switzerland on 13 - 16 September 2012.
In the 4-year old division Melanie Hoffmann steered Jörg Aeberhard's stallion Delioh von Buchmatt (by Danone I x Wolkenstein II) to the overall victory after winning the warm up round and finals test. The stallion scored 8.55 in the first round and improved his scores in the finals with an 8.61 overall. Hofmann also took the reserve champion's title aboard the Swiss bred Dreamcatcher Flusswiss (by Dream of Night x Silvio I). This horse scored 8.33 in the final. Gilles Ngovan and the stallion Dream On (by Dream of Night x Dock Leaf xx) followed in a distance with a 7.54 final test score. They slotted in third.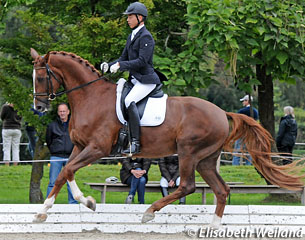 Gilles Ngovan and last year's 4-year old champion, the chestnut stallion Furstentraum (by Feinsinn x Davignon I), claimed highest honour in the 5-year old division, winning the Finals test with an 8.09 score. The horse scored solid 8s for trot, canter and rideability with the walk being the least scoring gait (7).  Doris Härdi and the dark bay Swiss bred mare Reinassance WM (by Sir Donnerhall x Rubinstein) finished second in the finals test with 7.85. Claude Pilloid and the dark bay mare Pom Pom Girl (by Dancier x Dion) slotted in third with 7.52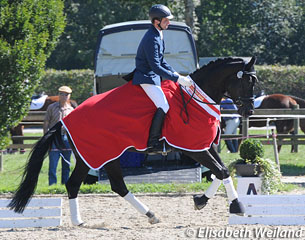 Philipp Hess and the dark bay mare Ruwina (by Rubin Cortes x White Magic) were unbeatable in the 6-year old division. The pair won round one with 72.28% and prevailed in the Final round with 72.27%. Gilles Ngovan and the show jumping bred dark bay stallion Cameron H (by Contendro I x Calido) finished second on 69.12%, while Myrta Zbinden and the chestnut stallion King du Perchet (by Konvally x Columbus) ranked third with 65.49%.
Photos © Elisabeth Weiland
Results - 2012 Swiss Young Horse Championships - Avenches
4-year olds - Round 1 (top 10 only)

1. Melanie Hofmann - Delioh von Buchmatt - 8.55
2. Melanie Hofmann  - Dreamcatcher Fluswiss - 8.33
3. Gilles Ngovan - Dans La Nuit - 7.55
3. Eva Lachat - Donna Mira - 7.55
5. Corinne Selebam Alt - Rietenbergs Guardian - 7.50
6. Eva Jolidon - Lingot d'Or du Coinat - 7.48
7. Corinne Selebam Alt - Darina IV - 7.45
7. Pierre Alain Stahli - Donna Francesca - 7.45
9. Gilles Ngovan - Dream On - 7.43
10. Rebecca Zbinden - Showtime RR - 7.33
4-year olds - Round 2 (top 10 only)
1. Melanie Hofmann - Delioh von Buchmatt - 8.61
2. Melanie Hofmann - Dreamcatcher - 8.33
3. Gilles Ngovan - Dream On S - 7.54
4. Eva Lachat - Donna Mira - 7.51
5. Gilles Ngovan - Dans La Nuit - 7.36
6. Corinne Selebam Alt -  Darina IV - 7.35
6. Pierre Alain Stahli - Donna Francesca - 7.35
8. Eve Jolidon - Lingot d'Or du Coinat - 7.33
9. Susanne Rothenfluh - Rubina Roja - 7.23
10. Barbara Bertschinger - Sonnebergs Fiderglanz - 7.21
5-year olds - Round 1 (top 10 only)
1. Gilles Ngovan - Furstentraum - 7.96
2. Doris Hardi - Renaissance WM - 7.66
3. Melanie Hofmann - Diva du Marais - 7.56
4. Claude Pilloud - Pom Pom Girl - 7.38
4. Andrea Aebi  - Senso ZS - 7.38
6. Nicole Ramseier - Blue Wind Bedo du Bez - 7.28
7. Silvia Schneider - Dali RR - 7.18
8. Sabrina Schmid - El Escada - 7.14
9. Janine Reznar - Sir Campino - 6.98
10. Emanuel Wittwer - Dehlia von Staerrenberg - 6.40
5-year olds - Round 2 (top 10 only)
1. Gilles Ngovan - Furstentraum - 8.09
2. Doris Hardi - Renaissance WM - 7.85
3. Claude Pilloud - Pom Pom Girl - 7.52
4. Melanie Hofmann - Diva du Marais - 7.52
5. Nicole Ramseier - Blue Wind Bedo du Bez - 7.39
6. Andrea Aebi - Senso ZS - 7.29
7. Silvia Schneider - Dali RR - 7.16
8. Sabrina Schmid - El Escada - 7.15
9. Janine Reznar - Sir Campino - 7.05
10. Silvia Schneider - Rubyal vom Basi - 6.53
6-year olds - Round 1
1. Philipp Hess - Ruwina - 72.28
2. Gilles Ngovan - Don Borena - 65.44
3. Veronika Marthaler - Don Boreno Fluswiss - 65.44
4. Bettina Mischler - Grace RR - 64.67
5. Myrta Zbinden - King du Perchet - 63.89
6. Tiziana Realini - Cinderella SPM - 62.56
7. Andrea Ludascher - Scarlett CB - 60.67
8. Roger Balz - Florestino von Worrenberg - 59.44
9. Corinne Ramseier - Ircon Colour - 59.000
6-year olds - Round 2
1. Philipp Hess - Ruwina - 72.27
2. Gilles Ngovan - Cameron H - 69.12
3. Myrta Zbinden - King du Perchet - 65.49
4. Veronika Marthaler - Don Boreno Fluswiss - 64.39
5. Tiziana Realini - Cinderella SPM - 63.67
6. Bettina Mischler - Grace RR - 63.58
7. Andra Ludascher - Scarlett CB - 62.83
8. Roger Balz - Florestino von Worrenberg - 59.83
9. Corinne Ramseier - Ircon Colour - 58.61
Related Links
Furstentraum, Weltjunge, Dandy de la Roche Win 2011 Swiss Young Horse Championships
Kayal du Perchet, Dandy de la Roche, Don Camillo II Win 2010 Swiss Young Horse Championships
Bugatti G, Darko of De Niro, Del Cuore Win 2009 Swiss Young Horse Championships
Scores: 2006 Swiss Young Dressage Horse Championships
Fiesta de Lully, Weltgraf II and Wicento Win 2004 Swiss Young Horse Championship