2012 Belgian Dressage Championships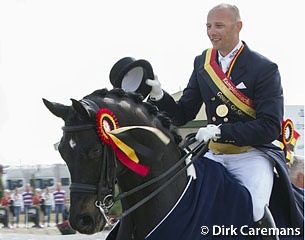 Pony rider Lavinia Arl, junior Jorinde Verwimp, young rider Tahnee Waelkens, and Grand Prix rider Jeroen Devroe became the gold medalists and winners of the 2012 Belgian Dressage Championships held at equestrian centre Hulsterlo in Meerdonk, Belgium on 30 August - 2 September 2012. At Grand Prix level Jeroen Devroe celebrated his come back to the show ring after missing out on the 2012 Olympics by reclaiming the national title.
In the FEI pony division the 14-year old Lanaken based Lavinia Arl swept the board in all three rounds, winning the team test, individual and kur to music with massive seventy percentage scores. Aboard the Belgian Riding Pony gelding Equestricons Epiascer (by Ten Ankers Jerolianca x Large River Cleopas), Arl received 73.231%, 75.049% and 74,325% from the judges to total 222,605 points.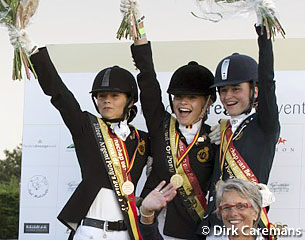 Trained by Carmen de Bondt, Lavinia earned the gold medal and referred Jamina Gijsels on the French bred German riding pony Oualidaluna (by Valido x Capri Moon) to the reserve champion's step on the podium. At her last high profile show in her pony career, the 16-year old Gijsels was on strong form and scored above 70% three times to total 214.701 points. Elle Peytier topped off her first year at FEI pony level with a third place finish at the Nationals aboard the Swedish Mathilda Hannell's German riding pony gelding Alexandra Dumas (by Don Pedro x Lucky Strike) with 210,782 points. All three medalists were members of the Belgian Pony team that competed at the 2012 European Pony Championship.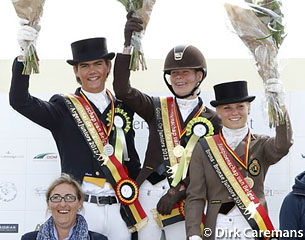 Junior Rider Jorinde Verwimp left no doubt about it that she and her Dutch warmblood gelding Tiamo (by Lester x Hemmingway) are the strongest Belgian pair in their division at the moment. In her last year as a junior, Verwimp scored a hattrick at the nationals with three victories in the three championship rounds (72.243%, 73.053%, 76.300%) to total 221.596 points. Michel Muyterts and the powerful bay  Riverdance (by Wolkentanz I x Hill Hawk xx) were consistently ranked in the top three to finish in a second place overall (212.577 pts).  Swedish-Belgian Leyla Larsson was putting up a strong fight but after a disappointing start in the team test, she was unable to climb up to a podium place but finished fourth overall. The Lovendegem based Lisa Busschaert and her 17-year old chestnut Swedish warmblood Opus One (by Beach Boy x Le Mexico) edged out the rest of the competition and slotted in third to grab her first medal at a national championship (204.203 pts).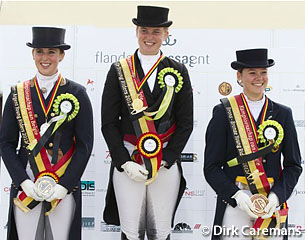 Tahnee Waelkens and her 14-year old Dutch warmblood gelding Sandiegobese (by Feleciano) won the title in the young riders as the cherry on the cake in her final year at that level. Trained by Jeroen Devroe, Waelkens and her long-legged bay gelding were first in the team test (71.368%), third in the individual (70.947%) and they won the kur creating a gap with the rest of the pack with their 76,325% freestyle score. Their total of 218.640 points but them more than 4% ahead of silver medalist Eline Borrey de Coninck on her beautiful liver chestnut Don Warohn EDC (by Dormello). Borrey's journey to silver was a remarkable one as the rider returned to competition after a long road of recovery from a neck injury sustained in 2011, a trainer switch to Stefan van Ingelgem as well as some minor health problems with her horse. In Meerdonk the pair was on strong form, placing third in the Team test (69.421%), winning the individual (71.421%) and ranking second in the kur (73,625%). Laurence Roos and her Dutch warmblood gelding Ambaro Saturnus (by Montecristo) stayed on the heels of her competitors and elbowed her way to a third place overall with 212.548 points.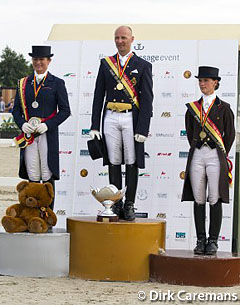 At Grand Prix level Jeroen Devroe made a strong come back with his Belgian warmblood gelding Apollo van het Vijverhof. In March 2012 Devroe secured an individual berth for Belgium at the 2012 Olympic Games but he did not make it there himself with Apollo due to a hoof injury.  Claudia Fassaert and the Belgian warmblood mare Donnerfee (by De Niro) went instead and performed admirably at the Games.  In their first post-London duel Devroe prevailed and won all three Grand Prix championship rounds with 72.872%, 73.417% and 75,925% as well as his eight Belgian Champion's title in his career. Fassaert finished in silver medal position, while Wiekevorst based Fanny Verliefden and her 17-year old Oldenburg bred Rubel (by Rubinstein I) grabbed the bronze.
Photos © Dirk Caremans
Related Links
Scores 2012 Belgian Dressage Championships
Jeroen Devroe Prevails at 2011 Belgian Dressage Championships
Jeroen Devroe Captures Sixth Belgian Grand Prix Champion's Title
Goris, Mommen, D'Hoore and Devroe 2009 Belgian Champions
Van Olst, Mommen, Vandenberghe Win 2008 Belgian Youth Riders Championships
Stefan van Ingelgem, 2008 Belgian Dressage Champion
Van Olst, Mommen, De Souter, De Deken and Devroe, 2007 Belgian Dressage Champions
Arlette Holsters and Faible Win 1998 Belgian Dressage Championships
Meiresonne, Pauluis, Smits, 1997 Belgian Youth Riders Champions